Have you noticed how T.V's, smartphones and monitors have become so much clearer and brighter? You really have to see an ultra-modern device to believe it. What you're looking at is OLED technology, and in an incredible innovation, leading laser rangefinder brand ZOOM is bringing that technology to golf.
Using Organic Light-Emitting Diodes the ZOOM OLED Pro Laser Rangefinder delivers unrivalled optics that are 5 x sharper and 3 x brighter than previous models. The vivid, ultra-clear view renders every contour and distance in immaculate detail, and with adjustable brightness settings you can perfectly match the surrounding light conditions to deliver the perfect view, whether in the glaring sun or a cloud-covered sky.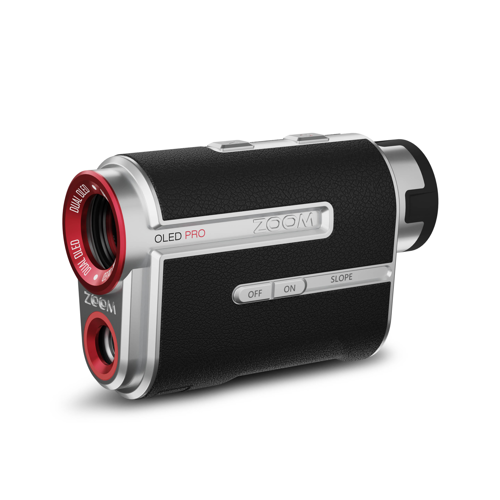 "The OLED technology really does have to be seen to be believed," comments Graeme Stevens, M.D. at ZOOM distributor Worldwide Golf Brands. "Everyone who has looked through the OLED PRO cannot believe how it changes the experience of using a rangefinder, and that's why I can say with some confidence that this will be a huge hit for golf retailers. As soon as a customer looks through, they won't consider any other option."
Another first for ZOOM is the introduction of a magnetic lock system that allows the OLED PRO to magnetically attach to your bag or golf cart. This feature makes the rangefinder Immediately available when needed, removing all fuss and allowing a golfer to prepare for their next shot with ease. In addition, the OLED PRO is shock proof and water-resistant adding extra layers of protection to this advanced technology.
The OLED PRO is also packed with all the features you would expect from a ZOOM rangefinder, including a  rechargeable Lithium Ion battery that lasts over 5000 measurements. And when a charge is required, a low battery indicator appears in plenty of time to take action.
Speed and accuracy are unrivalled up to a 1200 yard range with a subtle vibration feedback when locked on target. Slope mode, for elevation adjusted distances is available, with an off switch for tournament play is included, while 6 x magnification, adjustable focus and flag finder technology complete the practical features in this unique piece of precision engineering.
A lightweight ergonomic design fits easily into the hand and a stylish contrast of metallic silver and red with a black faux leather body provide for a beautifully stylish finish.
With groundbreaking technology that sets it apart from any other rangefinder, the ZOOM OLED PRO really does have to be seen to be believed. The OLED PRO viewer is not just a feature; it's an experience that once seen, will mean a golfer can never look back.
For more information please visit www.zoomgolf.net or email Sorders@wwgb.uk