Underpinned by a commitment to high quality, affordable golf equipment, MacGregor is setting golf retailers up for the new season with the launch of four new golf bags. The new bags ooze style and performance while retaining a price point that retailers have come to expect from the brand.
"Over the last few years we've seen a huge surge in demand for lower price point products, largely driven by the influx of new and returning golfers post-covid," explains Graeme Stevens, owner of MacGregor. "Our package set business has grown enormously through that period, but the golfers who started back are now looking to take the next steps in their journey. Our 2024 MacGregor range that starts with the new bags, but will also include woods, wedges and for the first time in many years, irons, is set to fill that gap with affordable, high quality products."
From large cart bag, through Hybrid, stand and 7" carry, the new line from MacGregor are each designed with the needs of different golfers in mind.
PARAMOUNT HYBRID 14 GOLF BAG
The Paramount Hybrid 14 gives the golfer the best of everything.
With a flat base, low positioning of the stand mechanism, key lock base for trolleys and non-slip, anti-wear fabric at the bag connection point the Hybrid 14 is the perfect bag to sit on a trolley or a cart with a secure, no-twist connection. Add in a spacious 9" top and 10 strategically placed pockets and this innovative bag gives the golfer all the benefits of the best cart bags.
Take it off the cart and it quickly turns into a lightweight stand bag, that can be carried in comfort with it's 4 point adjustable strap, cushioned mesh fabric and air channel for breathability. Packed with features such as moulded rubber handles for moving in and out of the car, 14 way top including oversize putter / umbrella well and 3 full length dividers among many others and the Hybrid 14 is ready for the course however you choose to play it.
PRINCIPAL 10" CART BAG
The best cart bags should give a golfer a place for everything, and this fantastic addition to the MacGregor range does that with space to spare.
A 10", 14 way top with 3 integrated grab handles combines with 3 full length dividers to make the organisation of clubs a breeze. With 9 strategically placed pockets including seamless velour-lined valuable pocket, even the best equipped golfer will have a spot for everything, while the design of all pockets being forward facing, simplifies access and makes every pocket useful.
Neat features such as umbrella loop. Pen holder, extra-large travel and rain hood and a padded shoulder strap complete the functionality. 3 stylish colour combinations and the iconic MacGregor logo as sported by Major winners through the years mean this superb cart bag looks as great as it plays.
 PRINCIPAL 9" STAND BAG
With a 5 way, 9" top and 2 full length dividers, the Principal 9" stand bag is the perfect lightweight addition for any golfer that loves to carry with a full set. An integrated grab handle with colour coordinated air mesh cushioned fabric helps move the bag from car to course, while 7 strategically placed pockets including a velour lined valuables pocket make sure the best equipped golfer has a space for everything they need.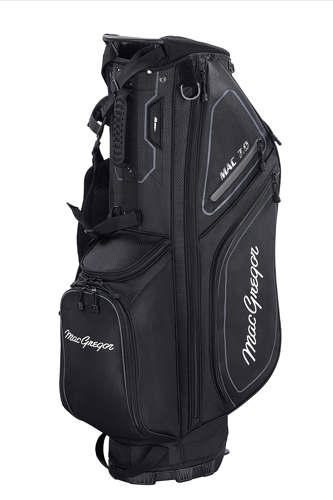 A padded dual strap and lightweight construction make the Principal 9" a comfortable carry while extra features such as towel ring, pen holder, glove holder and umbrella loop mean everything has a place and is easily found. Available in 4 stylish colour combinations and featuring the iconic MacGregor logo as sported by Major winners through the years. 
PRINCIPAL 7" STAND BAG
With a 4 way, 7" top and 2 full length dividers, this ultra lightweight stand bag is the perfect bag for golfers who just want to grab and go with a ¾ set or play 9 holes after work.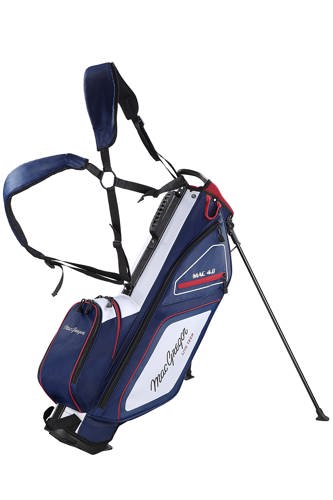 A lightweight, high mount, automatic stand system with a moulded angle base provides excellent stability while the padded adjustable dual strap delivers maximum balance and comfort. 5 strategically placed pockets including velour lined valuable pocket give plenty of storage options for those who want to carry a little more while a host of neat practical features make life on the course just that bit easier. Available in 3 stylish colour combinations and featuring the iconic MacGregor logo as sported by Major winners through the years. 
The new MacGregor bag line can be ordered 24/7 through the new Worldwide Golf Brands B2B ordering portal. Sign up at the link below to see every item in every brand and range stocked by WWGB.
https://b2b.wwgb.uk/pages/trade-login