New DUO SOFT features upgraded core for faster ball speeds & increased distance
Wilson, one of the world's leading golf ball brands, has taken the world's softest golf-ball* to another level with a new core formulation engineered to deliver faster ball speeds combined with the same revolutionary soft feel.
The upgraded Wilson DUO SOFT features velocity boosting additive in its core, specially formulated for increased distance, which results in shots that fly farther and launch easier with less effort.
"Wilson introduced the low compression golf ball category nearly 20 years ago, and this improved DUO SOFT golf ball exemplifies how we continue to lead in innovation for every golfer who values long, straight distance with remarkably soft feel," said Tim Clarke, President of Wilson Golf.
"This new DUO SOFT golf ball delivers incredible performance, premium, soft feel and a great price compared to similar competitive golf balls." Testing shows that against competitive soft golf balls, DUO SOFT has the softest compression and lowest driver spin off the tee**. Its unique construction delivers long and stable flight that helps golfers find more fairways, allowing for better iron and wedge spin to attack more pins," he added.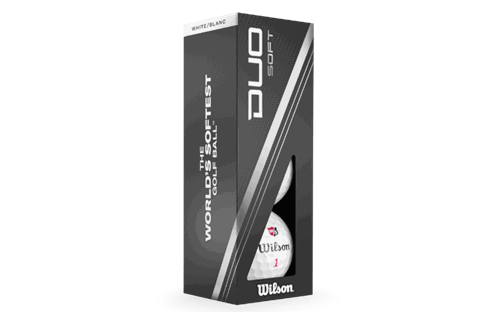 With its carefully calibrated constriction, the low-compression core and mid-hardness cover offers its softest feel ever, providing incredible overall performance, matched with a premium feel. Optimized aerodynamics also means reduced driver spin for longer carries off the tee, straighter shots and more fairways.
The new two-piece DUO SOFT is part of Wilson's premium golf ball line that includes the premium four-piece urethane Staff Model and the three-piece urethane Triad. The Tour-inspired Staff Model ball is designed for elite players and golfing purists, featuring advanced V-COR™ performance technology that magnifies energy around the core composition to deliver maximum distance, a high-level of spin and exceptional control.
Launched last year, the award-winning Triad incorporates T3 Technology designed to provide total performance from tee to green. An exclusive construction produces a high MOI that reduces driver spin off the tee, while increasing speed through the shot for a long and stable ball flight intended to find fairways more often.
The new DUO SOFT is available in white, green, orange, red, yellow and women's version in white this January 2023.
*Based on internal testing against leading competitors conducted by Wilson Golf at Wilson Innovation Center in Schiller Park, IL on 9 March, 2022. **Results of internal testing performed at Wilson Research Test Facility in Humboldt, Tennessee on 13 June, 2022.