- Versatile new bag range offers four new models in striking feature-packed designs -
Wilson Golf has advanced its bag offering for 2023 with the introduction of the new EXO DRY cart and EXO LITE stand bags, plus ILOCK and ILOCK DRY cart bags to cater for the needs of every golfer throughout the season.
The full bag range features nine different styles in 31 different colour options to suit both men and women searching for a stylish, functional and affordable method of transporting their clubs.
"These new additions to our bag range make Wilson's offering the most comprehensive on the market," said Leigh Fletcher, Head of Wilson Golf UK & Ireland. "From the convenient lightweight EXO LITE to the feature packed ILOCK DRY, our designers have left no stone unturned in producing a range of bags that will perform well, while looking good on course, especially in the iconic Wilson Red and White," he added.
Weighing in at just over 2.5 kg, the new EXO LITE bag offers all of the convenience of a full featured golf bag in a lighter frame to make carrying more manageable over 18 holes. Incorporating a 4-way top with integrated handle and two full-length dividers, there is plenty of room for all of your clubs, while five conveniently located pockets make sure that everything you need on the course is kept safe and easily accessible.
The 2-in-1 self balancing strap system with ergonomic padding will ensure the bag can be adjusted to a height to suit every golfer, while the Air Flow lower back/hip pad provides an added layer of comfort out on the course.  A newly designed sturdy stand system with reinforced spine rod and moulded centre handle provides rock solid stability when putting your bag down. Additional features include an umbrella holder, towel ring, glove holder, rain hood and pen holder.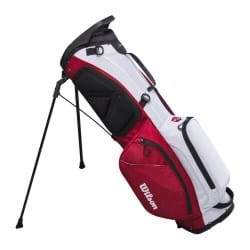 The EXO LIGHT stand bag is available in six standout colourway options – Black/Charcoal, Orange/White, Dark Blue/LightBlue, Navy/Cream, Black/White/Red and the traditional Wilson Red & White that is trusted by golfers around the globe.
The new EXO DRY cart bag is lightweight, robust and weather resistant, providing a stylish and dependable method of club transportation for even the toughest conditions. Boasting a 14-way top with full-length dividers and an enlarged putter section that fits oversized grips, the bag also features nine seam-sealed pockets with welded zippers in a variety of sizes to keep your clothes and accessories dry and secure.
With a trolley anchor base with Secure Connect and pass-through strap construction, attaching your bag to a push or electric trolley has never been easier. A premium padded single strap makes transporting the bag a comfortable task, white the umbrella holder, towel ring, glove holder and snap-on rain hood ensure easy access if the weather suddenly changes.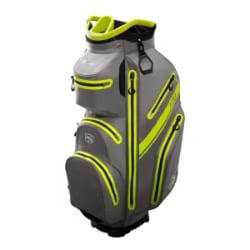 The EXO DRY cart bag is available in three colour options - Charcoal/Citron, Navy/Red/White and the iconic Wilson Red/Black/White. 
For industry leading club protection the ILOCK and ILOCK DRY cart bags provide the ultimate in portability and safety. Both models feature an ILOCK top that secures each club in its own well for increased protection, reduced knocking and better balance for easier transportation. The ILOCK top consists of nine iron holders, four protected dividers and an enlarged putter well to accommodate an oversized grip. A variety of different sized pockets feature across both models including two full length garment pockets, one front rangefinder pocket, one cooler pocket, one large accessory pocket and two large external valuables pockets.
Additional features across both models include an easy to use trolley anchor base, umbrella holder, towel ring, glove holder and rain hood, with a padded strap for comfortable carrying.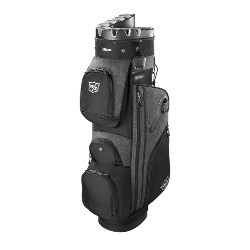 To keep the elements out, the ILOCK DRY is constructed from a lightweight water-resistant fabric that is fully seam sealed with welded zippers for all of the pockets.
The ILOCK is available in four colour options - Black/Charcoal, Black/Red, Navy/Black, Black/Blue.
The ILOCK DRY is available in a sleek Black/Silver colourway as well as Black/Red.
Best Of The Rest 
The QS stand is an extra-light (1.75kg) quiver-style stand bag that is perfect for the frequent walker and golfing purist. The 8.5" x 7.5" four-way top with easy-carry handle and four pockets is perfect for carrying the clubs and gear needed without getting weighed down. An easy-operating lightweight stand and four-point double strap ensures effortless transportation. Other features include an umbrella holder; large towel ring and glove holder, plus a rain hood. Available now in three colours – Red/White/Black, Black/White and Navy/White/Red.
The ever popular EXO stand & cart bags are innovative, premium golf bags with a five-way top, and two full-length dividers to keep clubs organised and easy for selection. A DryTech valuables pocket, large garment pocket, accessories pockets, water bottle sleeve and large ball pocket will keep everything you need out on the course safe, while a fully integrated stand and non-skid base ensure rock-solid stability and ease of use. Padded straps combined with 2-in-1 self-balancing strap technology provide golfers with ultimate on-course carrying comfort.
The EXO stand is available in five standout colourways - Black/Black/Silver, Black/Black/D9, Navy/White/Red, White/Black/Red and Red/White/Wilson.
The EXO DRY stand bag is packed full of all of the innovative features offered by the EXO stand, but also provides golfers who play in all conditions, a more weather resistant design including a seam-sealed construction and welded zippers to ensure pockets stay dry in wet weather.
Available in three colour options - Red/Black/White, Black/Charcoal/Silver and Charcoal/Charcoal/Citron.
Lightweight and robust, the EXO cart bag is jam-packed full of convenience features, designed to make transporting your clubs and belongings around the course as easy as possible. A 14-way top with full length dividers and enlarged putter section ensure club protection and ease of selection for all golfers, while the trolley base with secure connection and pass-through strap construction will guarantee the bag remains secured in the correct position on the cart.
Boasting ample storage for golfing accessories, the bag has two DryTech valuables pockets, two full-size garments pockets, two front pockets for balls and rangefinder, two accessories pockets and a large cooler pocket with drain holes. Additional features include an umbrella holder, towel ring, glove holder and snap-on rain hood.
The EXO cart bag is available in four colourway options to suit every golfer - Black/Black/Silver, Black/Blue/D9, Navy/Red/White, Women's.
Pro Tour Bag
The Wilson Pro Tour Bag delivers convenience, function and design in the standout traditional Wilson Red & White colours to make the average golfer feel just like a Tour pro.
Inspired by feedback from Wilson Tour players and caddies, the Pro Tour bag features a 6-way top with strong mesh wrap shaft protection and two integrated side handles. A 10" round base provides a comfortable trolley fit and eight large storage pockets include a detachable front segment ensuring every bit of gear can be taken onto the course.
Additional features include high-density foam padded straps with two or three-point attachments; two water bottle holders; two umbrella sleeves; premium YKK zippers; a tag ring; and rain hood.
For more information on all Wilson Staff products, including woods, irons, wedges, putters, balls and accessories, visit www.wilson.com.