The Spring / Summer 2023 Farah Golf collection has arrived and has a visible golf edge. The fabrics are more technical, and hence more functional for golf. New colours, Oyster Mushroom and Cilantro are easy to wear and have been transformed into cool tonal patterns across the range with pieces that have a story of their own.
A notable example is the Hawkins polo. The inspiration for the pattern on the Hawkins comes from a desire to create a subtle connection to the Farah brand itself, with incredibly cool use of silent branding. The polo carries a repeat pattern of curved contour geographical lines that creates a visual representation of the Farah UK HQ on an Ordnance Survey map.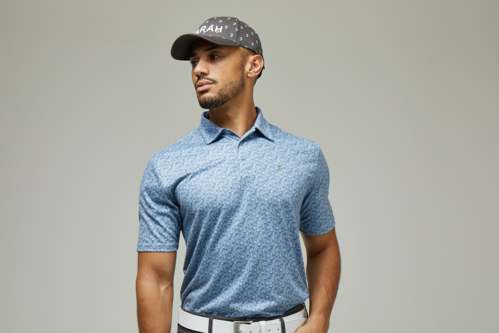 "Silent branding is something that we've been interested in using for some time," explains Farah Golf Design Manager, Kate Ford.  "As an extension of the Farah brand it is essential that we reflect its ethos, quality and heritage, but it's also important to incorporate our own golf expertise.  By using this effect, we have been able to create a genuine, interesting garment as well as creating a subtle connection back to the brand our customers already know and love."
There are two statement polos in the collection that will allow Farah Golf customers to display their individuality. The first is the Starkey which carries a 3-tone all over print that creates a very cool, eye-catching, mottled effect. This technical polo is available in Cilantro, Regatta Blue and Black.  The second of the more striking patterns comes in the Fritch polo. The Farah 'F' has been repeated, in numerous assorted sizes, and have been randomly overlapped to create an understated, cool tonal print.  This overall print polo is available in four traditional golf colours which will appeal to a golfer looking for something original, yet easy to wear.  
The repeat 'F' pattern can also be found in the new Hebron gilet. From the outside this is a classically presented, full zip gilet with fabric that delivers wind resistance making it ideal for blustery days on course.  Unzip the garment to reveal the new pattern on the inner lining of the gilet for added interest.
"Customers will enjoy the latest collection as it combines our golf design expertise and the Farah brand very effectively," comments Kate.  "It offers retailers the chance to introduce a new line that is easy to wear and is exceptionally stylish.  The Farah brand is one of the most authentic menswear brands in the UK and we are immensely proud to be able to bring it to golf again this season."