Introducing the brand's most popular footwear franchise to the world of Golf, Under Armour today unveils the new Charged Phantom SL.
Offering the comfort of your favourite pair of trainers, with all the performance and traction of a traditional golf shoe, Under Armour is taking the sneaker-style golf shoe trend to new performance highs in 2023.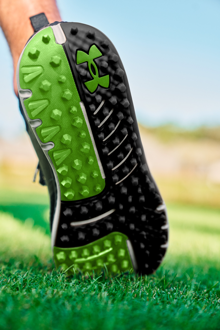 Combining Under Armour's signature Rotational Resistance Traction technology with a UA Storm knit design, the Charged Phantom SL delivers traction and comfort in abundance.
As the name suggests, the shoe boasts UA's Charged Cushioning platform. Used throughout the midsole, Charged Cushioning uses compression molded foam to deliver ultimate responsiveness & durability, enabling you to play all day in comfort on a soft and a flexible but supportive base.
Comfort is taken to the next level through the bootie design and molded EVA sockliner, which provide step-in comfort with a sock-like fit & feel.
The lightweight, breathable knit upper also features strategic reinforcements designed to support the golf swing, ensuring there is no compromise on performance, while remaining highly water-resistant thanks to the UA Storm and Never-Wet treatment that keeps your feet cool & dry.
Jake Haley, Sr. Product Manager for Under Armour Golf said: "We are really excited about bringing the successful Under Armour Phantom trainer into golf. The Phantom training shoe is the most popular Under Armour model across the globe, with a style & aesthetic that really encapsulates our brand, we know this strategy of turning a trainer into a golf shoe has been done plenty in the world of golf footwear, but we differentiate ourselves by still building this trainer on a true golf performance midsole & outsole.
"At Under Armour, we always put performance first. In fact, this midsole & outsole was one of the best testing packages in our biomechanics work with JJ Rivet. So not only are we delivering a shoe that looks more athletic and feels more comfortable than any golf shoe you have ever worn, but it is built to support the biomechanics of the golf swing."