Launched at the PGA Show, TGI Partners are invited to pre-book now. Click to view a lookbook of key styles.
Callaway Apparel has launched its new modern and sophisticated Autumn/Winter 2023 Collections for men and women, offering multi-functional styling infused with a host of standout performance technologies.
WEATHERSERIES™ technologies and design innovation underpin the collection - product performance flows throughout Callaway Apparel's DNA. Garments across the AW23 line feature:
PrimaLoft®: Insulation at the highest level
SINGTEX® STORMFLEECE™: The ultimate soft shell
Swing-Tech™ Technology: Enhanced motion and comfort
Aquapel™: Next generation ethical water repellency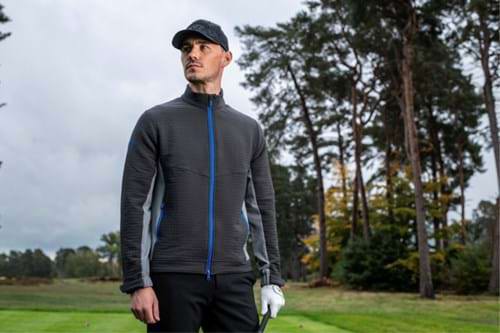 Innovative Swing-Tech™ Technology is expanded in men's WEATHERSERIES™ with re-engineered seams around the shoulders, back, and under sleeves for better range of motion - crucial within layering to avoid restriction and aid movement. 
A new range of Puffers feature strongly, available in Full-Zip Jacket or Vest options, offering high degrees of insulation, with minimal bulk. Mid-Weight Fleeces with 3D textures and super-soft hand feels also provide warmth and weather-resistant performance, thanks to Aquapel™, offering next-generation water repellency.
New Storm Fleeces, in Pro and Lite versions, give consumers a perfect soft shell with lots of stretch while remaining warm, water-resistant, and wind-repellent. AW23 also showcases Callaway Apparel's all-new, feature-rich 15000 MMU Stormguard III Rainsuit.
Key Technologies - Overview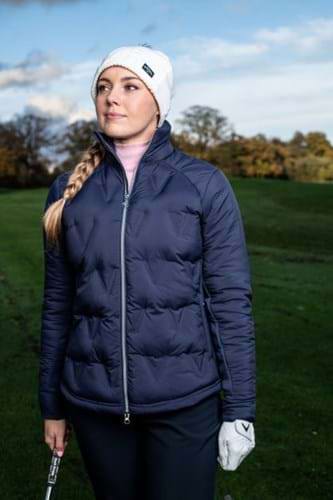 PrimaLoft® Keeping warm and dry on the course is essential. Callaway Apparel has partnered with PrimaLoft® to incorporate market-leading insulation which is lightweight and packable. Its superior softness results in a cosy, snug fit, and body temperature regulation technology ensures you will not overheat. It is water resistant and made from 100% recycled content.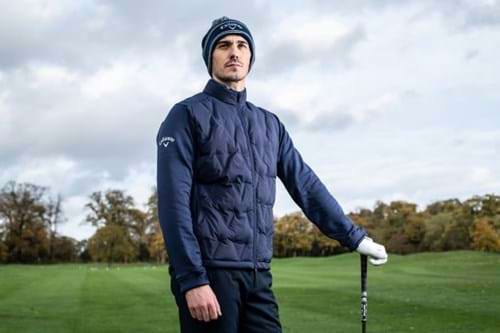 SINGTEX® STORMFLEECE™ Not simply a fleece, this is soft-shell engineering at its best, representing a breakthrough in the textile market. Lightweight yet designed to defend tough weather conditions, it is the ultimate layering piece with a low carbon footprint.
Swing-Tech™ Technology Callaway Apparel's innovative Swing-Tech™ Technology re-engineers garment seams to improve range of motion and comfort.
Aquapel™ Fast drying, breathable and durable, Aquapel™ offers unbeatable water protection. This technology modifies fabric at the molecular level by permanently attaching hydrophobic 'whiskers' to individual fibres which elevate liquids, causing them to bead and roll off the surface.
"This season our WEATHERSERIES™ is truly standout in terms of styling, performance, and the levels of technology that have been infused in every garment. We are offering our retail partners a complete spectrum of products like never before, to cover the whole season.
"What's more, while we proudly remain authentic to golf, under our moniker 'We Fit The Game', all AW23 products, strongly aligned to wider fashion trends, look equally comfortable being worn off the course as they do on it," said Helen Willsmer, Callaway Apparel's Brand Director.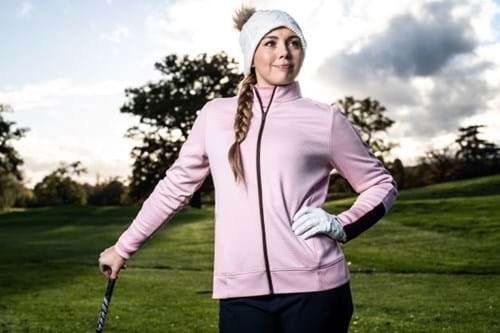 Product Highlights - Men's Collection:
StormFleece Pro III Jacket
Chev Welded Quilted Jacket
Insulated MIxed Media Jacket
StormGuard III Waterproof Suit
In the Women's Collection, where style is balanced perfectly with technical performance based products infused with a beautiful colour palette. Colours like chicory coffee and brown sugar combine with neutral pastel pink nectar and baleine blue, to add a soothing effect when contrasted with warm, dark tones.
As with the Men's Collection, WEATHERSERIES™ is expanded across the crossover category, with a greater number of layering options like sweaters and mid-weights with hoodies, featuring super-soft, luxurious fabrics.

Women's Key Products:
Chev Primaloft Jacket
Heathered Fleece
Fleece Hoodie
BOOK NOW WHILE STOCKS LAST. CONTACT YOUR REGIONAL AREA SALES MANAGER