TaylorMade Golf Unveils New Spider Tour Series With Five Unique Models Including The Iconic Spider Tour & Spider Tour X Putters
With unmatched stability and an unmistakable shape, for nearly two decades Spider putters have been claiming major championships and stacking victories across professional tours globally.
TaylorMade revitalises the essence of this iconic franchise with the release of the Spider Tour Series – a family of high MOI putters with five unique models featuring renowned technologies such as True Path Alignment, Pure Roll and TSS weighting.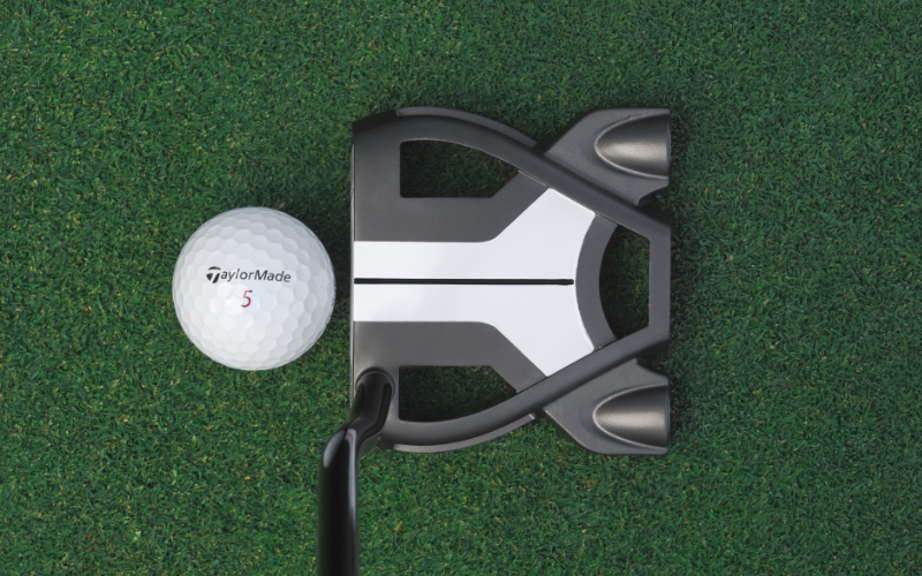 Within a design that will always be synonymous with stability, each Spider Tour Series putter is crafted using multi-material construction to push weight low and back in the head for high levels of inertia. Engineers created superstructures that maintain the shape of a classic Spider Tour, then utilised thin wall undercuts to remove excess weight
A steel wireframe construction allows engineers to better control weight distribution and CG location. The suite of putters includes various CG positions to fit a wide variety of putting styles, while also arming custom fitters with an array of options.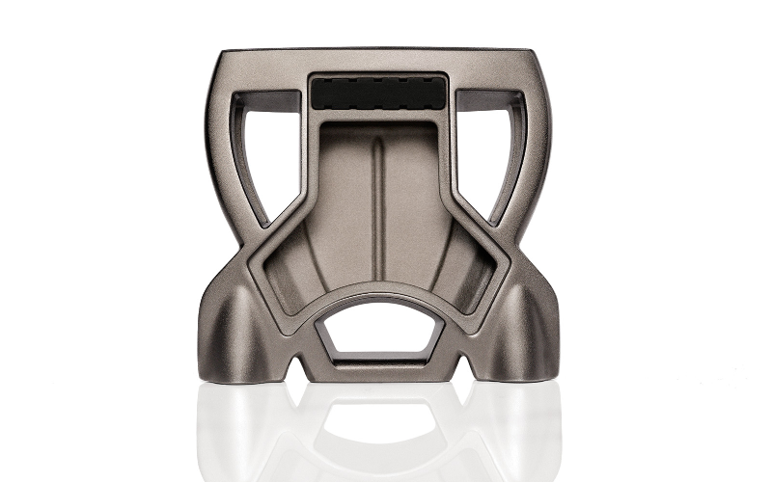 Underneath the hood is a new HYBRAR Echo Damper that is also seen in TaylorMade distance irons such as Stealth and Stealth HD. It is placed directly behind the face to dampen unwanted vibrations, delivering premium sound and feel on every putt.
With the Spider Tour Series, TaylorMade is utilising the same Pure Roll insert that rose to prominence with the original Spider X putter. Moulded from a Surlyn material, it delivers a soft yet responsive feel with grooves that are angled 45° downward to help impart better topspin and an end-over-end roll.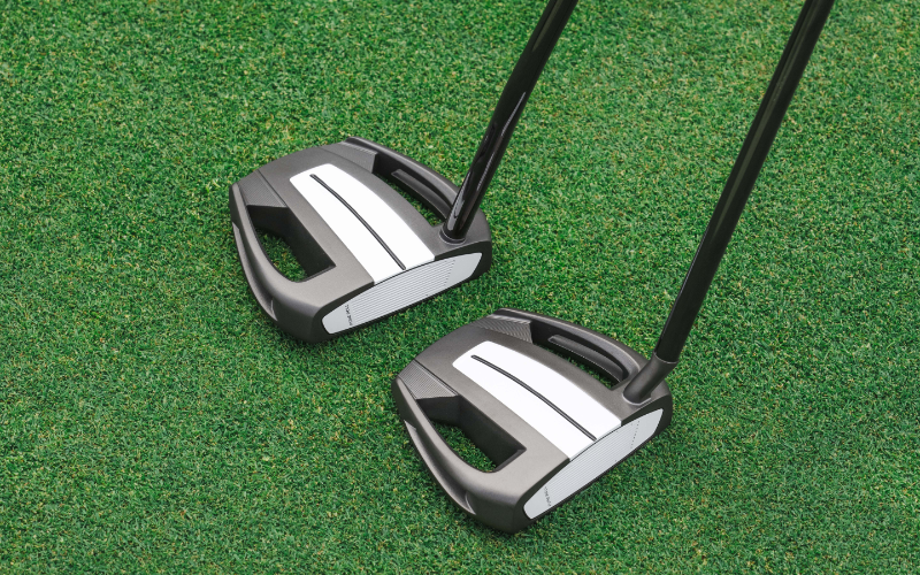 The Gunmetal PVD (Physical Vapor Deposition) finish not only enhances the aesthetics of the putters but also provides enhanced durability and a sense of luxury that elevates the overall quality of the family. The PVD coating creates a robust barrier that helps protect the surface from the rigors of regular use and exposure to various environmental elements.
"Spider putters have long been synonymous with stability, which directly translates to high-MOI performance. The unconventional shape creates a more stable platform that protects ball speed on mis-hits and delivers a more consistent roll across the face. Our new Spider Tour Series maintains our iconic technological features, including True Path and Pure Roll, while also delivering a range of shapes and CG locations to match a variety of putting styles." - Brian Bazzel, VP of Product Creation.
In this new series TaylorMade have different weight options with different centre of gravity placements to help different golfers' putt better.
Spider Tour
Spider Tour is one of the most recognisable shapes in the putting world, accounting for dozens of victories on professional tours across the globe. TaylorMade is breathing new life into the company's most popular creations with enhanced materials, a new colour and refined weight distribution.
The Spider Tour model has a CG location of 35mm from the face, 5,700 MOI and 29° of toe hang on a small slant hosel. Spider Tour has over 700 MOI more than the previous model.
Spider Tour X
Made popular as the putter of choice for Rory McIlroy, the Spider X shape has been one of the most sought-after in the franchise. It was originally designed to convert players who loved blade putters into mallets, using a compact shape and modern look to deliver a more blade-like feel with the added benefits of alignment and forgiveness that are incumbent to Spider putters.
TSS weights in Spider Tour X are placed farther forward, generating more face rotation and a CG placement that is 33mm from the face compared to 35mm of Spider Tour. This model has MOI of 5,000 and 30° of toe hang on the small slant hosel.
Spider Tour Z
Spider Tour Z is one of two new shapes in this line-up, paying homage to the Spider Tour with a wing shaped back. The perimeter of this putter sits low in the ground to provide a comfortable feeling at address and help frame the golf ball for easy alignment. TSS weights on this model are placed very far forward to encourage more face rotation and a blade-like feel.
It has a CG location of 29mm from the face, 5,050 MOI and 29° of toe hang with a small slant hosel.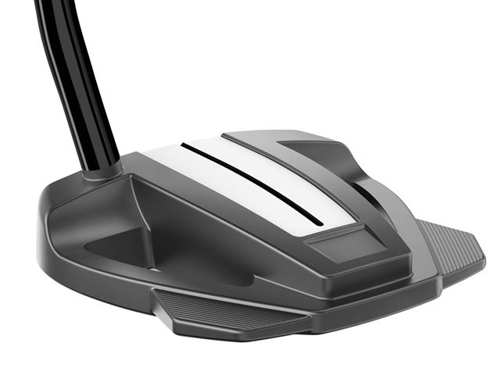 Spider Tour V
Spider Tour V eliminates the wing structure and creates a more modern streamlined look. It is the smallest putter in shape and size in the line-up, providing the most rotation of the bunch.
Spider Tour V has a CG location of 27mm from the face, MOI of 4,900 and 32° of toe hang with a small slant hosel.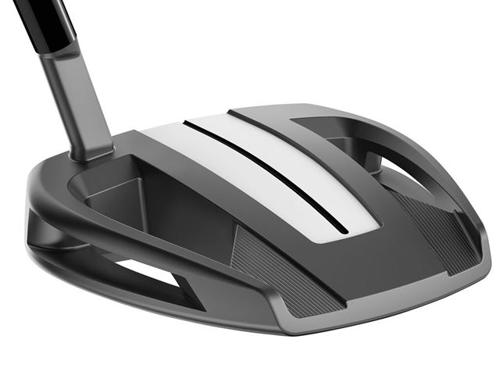 Spider Tour S
The Spider Tour S is a larger version of the original Spider. The putter head is 3mm longer and 8mm wider in comparison. Spider Tour S is constructed at a heavier head weight and only offered at 35" and 38" lengths, with both featuring counterbalance grips for maximum stability.
Spider Tour S has a CG location of 38mm from the face, 6,063 MOI and is face balanced. It will be available in Spring of 2024.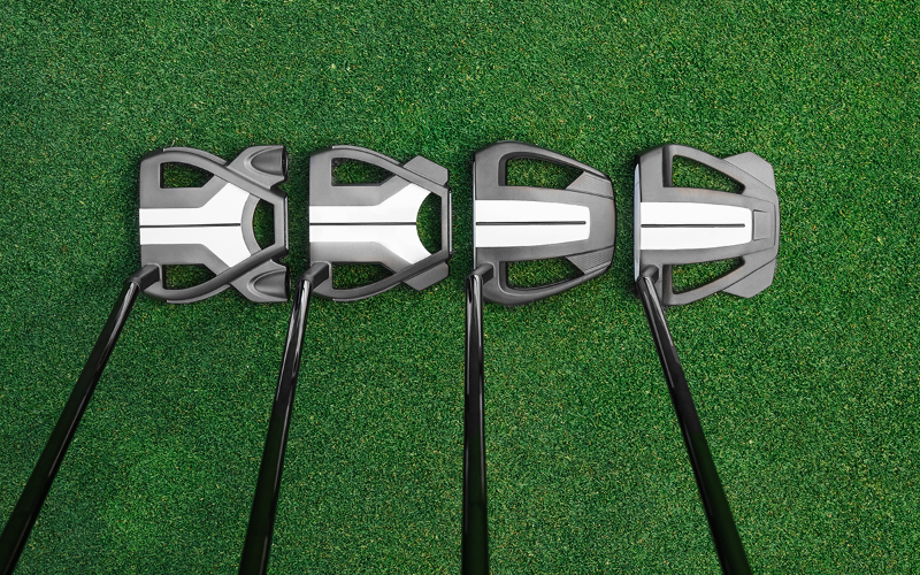 Availability & Specifications
Spider Tour series putters are available at retail on October 27. All models come equipped with a white/yellow SuperStroke GT 1.0 Pistol grip and gloss black PVD KBS shaft.
MySpider Tour & MySpider Tour X
TaylorMade will also offer a customisation and personalisation programme for the Spider Tour and Spider Tour X models. MySpider Tour and MySpider Tour X gives golfers the option to customise the finish on their putter with four finish options:
Hydro Blast
Black
Gunmental
Rose Gold
Golfers can choose the feel of their face insert within the MySpider programme for the first time. For a customised playing experience that suits the golfer's style, MySpider allows golfers to select the colour that represents their game and pair it with their desired feel - whether that is a soft feeling or a firm roll.
The TPU Surlyn insert promotes a classic softer feel at impact with a more muted sound and TaylorMade's Pure Roll insert features grooves at a downward 45° angle designed to optimise roll characteristics. Colour options for the TPU Surlyn inserts are black, grey, or white.
Pure Roll technology is also available in TaylorMade's aluminium insert available in 10 colourways delivering a slightly firmer feel at impact.
Additional personalisation offerings include sightline, sightline colour, true path, face insert, sole plate, back badge, weight colour and two headcover options.
For more information, visit TaylorMadeGolf.co.uk or TaylorMadeGolf.eu