Latest Feature-Packed Golf Bags Showcase Distinctively Different Colours & Patterns
Sun Mountain has unveiled its most distinctive collection to date, headlined by the all-new ADVENTURE range of top-quality waterproof bags designed to provide golfers with striking ultra-modern styles for the 2024 season
Sun Mountain has continued to push the boundaries of golf bag design with its bold ADVENTURE golf course topography print on the latest H2NO LITE stand and cart bags to offer a contemporary look and a clear point of difference compared with traditional bags.
The all-encompassing range is made up of 28 feature-packed golf bags and more than 90 distinctive colourway combinations in total, offering retailers a supremely extensive choice across three advanced Sun Mountain ranges.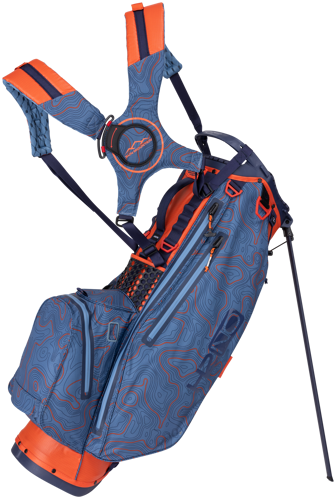 "The ADVENTURE bags look superb and really compliment the brand's 'Ahead-Of-Time Design' vision," said Nigel Freemantle, Managing Director of Brand Fusion International, distributors of Sun Mountain products across Europe. "Hot on the heels of a brand makeover earlier this year, Sun Mountain is raising its profile on a global scale more than ever before and offering stockists really strong margins on the high-quality range of stand and cart bags, plus travel covers," he added.
The 2024 range features the addition of yet more distinctive colours and patterns on popular models, plus a host of user-friendly features including a new bubble-design top and hip pad to protect club shafts and offer added comfort when carrying. This includes the H2NO line of fully waterproof bags; sustainable ECO-LITE bags that utilize up to 25 recycled plastic water bottles in the REPREVEÒ fabric; plus, the super-premium MID-STRIPE collection.
The long-lasting H2NO line-up uses fabric with a waterproof treatment applied to both sides and sealed seams to ensure belongings remain dry in wet weather conditions. The popular collection is comprised of three stand and cart models, complete with full-length dividers and ample pocket space to store belongings.
The premium stand bag options include the ultra-lightweight H2NO LITESPEED designed for the avid walking golfer at under 2.3kg in weight; the H2NO LITE model featuring a slightly larger 9.5" top; plus, the H2NO LITE 14-Way design offering more space at the top of the bag to organise clubs. The Port/Rush Red/Cadet colourway on the LITESPEED and LITE 14-Way bags and the Moss/Gold/Taxi option on the LITE style are some of the most vibrant colour combinations that are sure to stand out in pro shops.
The best-selling H2NO STAFF model spearheads the fully waterproof cart bag options thanks to its top-quality design for optimal use on all carts. It features a 10.5" top with 14 full length dividers and a cart strap pass through for easy loading without compromising access to the nine forward facing pockets.
The popular H2NO LITE cart bag is offered in as many as five individual colourways next season, while the roomy H2NO ELITE cart bag provides an option for golfers seeking ample space to transport clubs and belongings.
Made using water-resistant REPREVEÒ fabric that helps to reduce harmful waste on the environment, the ECO-LITE line is made up of two feature-packed stand bags in both 4-way and 14-way tops, plus a cart bag model to offer retailers the opportunity to stock designs that are great for golf and even better for the environment.
The retro-look MID-STRIPE collection welcomes four entirely new designs for 2024. These include the smaller ACE and larger 14-Way stand bags, plus the addition of two cart bag designs offered in a 4-Way and a 14-Way top. With up to seven striking colours to choose from, the super sophisticated collection has already received praise from leading golf media titles with Today's Golfer awarding the 4-Way stand bag a 2023 Editor's Choice award.
The award-winning CLUBGLIDER travel bags feature the exclusive folding-leg mechanism that fully supports the weight of the bag for exceptional manoeuvrability in transit, while the compact KUBE model is a great option if space is limited.
A total of up to 25 golf bags and four travel covers can be personalised with club logos and names for an added premium look. A Non-Stock range of bags – free from any branding – provides the perfect canvas for placing corporate or club logos. Prices for the top-quality embroidery process starting from as little as £5.95.
For more information about stocking the Sun Mountain 2024 golf bag range, contact your local Brand Fusion sales agent or visit www.brandfusion.co.uk.