This spring/summer, the design team at Stuburt has modernised the polo collection with new colours, cool patterns, and lightweight performance fabrics. 
The new colours across the range are French Navy, Droplet (light grey), Sulphur (vibrant yellow), Canyon (orange). These new additions appear in the core basic Sport Tech polo as well as in the new polo designs to create sharp on-shelf appeal. Each polo is named after a bird creating a connection between our love of golf and the great outdoors.
The Dunnock is the first example of a polo designed for the increasing number of younger Stuburt customers.  It carries a repeat, all over, geo-print pattern in triangles featuring the Stuburt logo. This use of pattern has been widely seen in mainstream fashion this season and works incredibly effectively in Stuburt's light, fresh colour pallet.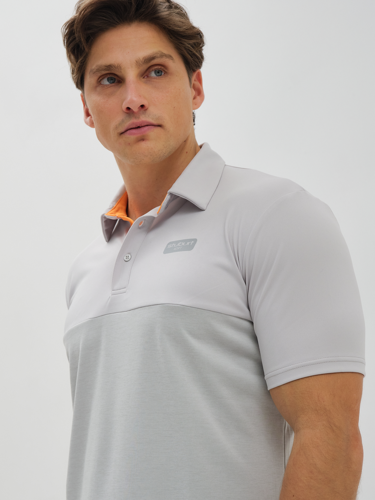 The traditional Stuburt customer will love the new Coal polo. This is a colour block, panelled polo with contrast striping for a pop of colour.  It also features a heat transfer print. The Gold Crest is another terrific addition which will be popular with golfers of all ages.  The polo is one colour, but the design team has cleverly combined a solid block fabric and a marl fabric to create a subtle depth to the garment. 
Finally, in the new polo collection Stuburt has the Eagle.  This is a lightweight, performance polo in a full camo print pattern. The camo print was first featured in the Active-Tech midlayer, which carries over for SS23 and will co-ordinate really well with the new polo which is available in 3 colourways.
To complement the exciting new polo collection, Stuburt has also updated its short and trouser offer.  The Urban II collection, in shorts and trousers, is made from a brand-new fabric that is both flattering and functional.  The trousers have a more tailored, slim fit that drapes really nicely. The trousers are offered in Black, Navy, and Slate Grey, with the short coming in the same colours with the addition of a new Royal colourway.  To complete the range the belt line has been refreshed for the new season with addition of new colourways Slate Grey and French Navy.
Stuburt's new collection shows how this brand is quickly reacting to a changing market, with a view to becoming a more attractive proposition for the younger golfer.  Retailers are bound to reap the rewards from this shift in design focus. They should also expect a new direction when it comes to marketing and Tour exposure to support this evolving brand as it moves forward into 2023.