PowaKaddy, the world's leading electric trolley manufacturer, is excited to announce the latest addition to its renowned FX range – the all-new FX1.  The FX1 joins the award-winning FX3 and FX5 and further extends the appeal of the PowaKaddy brand, without compromising on premium quality, performance, and reliability.
The FX1 retains the class-leading frame of the FX Series and boasts several key features that are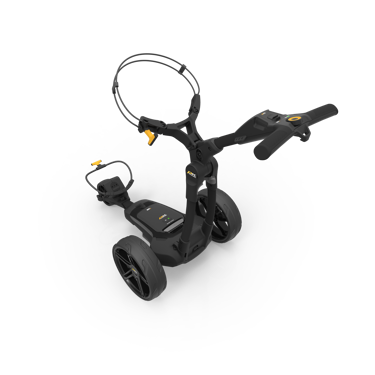 designed to offer the user an effortless on-course experience.
The model features a new single LED on/off indicator, while the low-profile sports wheels ensure good manoeuvrability.  The FX1 also features a simple pause and resume speed controller, allowing a one touch return to your desired speed, whilst the height-adjustable soft-touch handle offers unrivalled comfort, and the patented anti-tamper dial control prevents any accidental trolley activation. Additionally, the stylish handle includes a scorecard and pencil holder for easy access during play.
"We are thrilled to launch the FX1, introducing customers to our popular FX Series and continuing our commitment to design and develop electric trolleys accessible to every golfer," said Graeme Wigham, Sales Director at PowaKaddy. "Our dedication to quality engineering and cutting-edge technology is evident in the FX1, which combines unbeatable performance and design with a simple, user-friendly trolley experience."
At the heart of the FX1 is a powerful, whisper-quiet 30-volt 230w motor, nestled within a low-profile PowaFrame® chassis. The trolley features PowaKaddy's unique Plug 'n' Play™ 30-volt Max battery and motor system, ensuring golfers maintain exceptional power on all types of terrains. With a simple pause and resume speed controller, the FX1 offers effortless control and an intuitive user experience.
David Catford, CEO at PowaKaddy, commented on the latest addition to the brand's range of electric trolleys: "We're excited to be bringing the FX1 to the electric golf trolley market. This trolley has evolved with our customers and ensures that PowaKaddy's globally renowned engineering is accessible to all golfers."
RRP FX1: £649.00.