PowaKaddy, is proud to announce that its FX3 and CT6 trolleys have been named as the UK's top two best-selling trolleys in both 2021 and 2022, according to latest figures from Golf Datatech.*
Both the FX3 and CT6 trolleys provide the foundation for PowaKaddy's popular FX and Ultra- Compact ranges, and both premium products offer simplicity coupled with unrivalled performance and reliability.
PowaKaddy's FX3 gives golfers the opportunity to tap into PowaKaddy's high-performance electric trolley range at an affordable price point.  The entry-level trolley features a brilliant 2.3" full-colour widescreen display, and a powerful, quiet 30v 230w motor nestling in a low profile, styled PowaFrame chassis.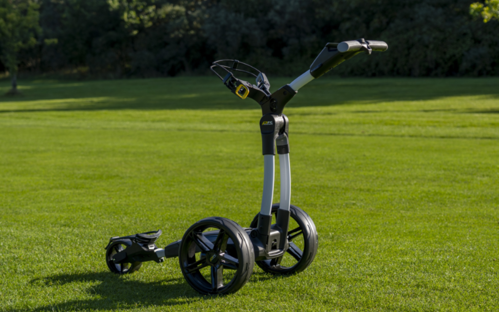 Building on its success in previous years, the ultra compact CT6, upgraded for the 2023 season, now incorporates a sleek, modern look with its new stealth matte black colourway. The premium trolley also comes equipped with a 2.8" mid-size full-colour widescreen display and a USB charging port, while the soft touch handle adjusts for the perfect fit, and an integrated carry handle makes it easy to transport.  It is clear consumers enjoy the ultra-compact design coupled with ultimate functionality.
Graeme Wigham, Sales Director at PowaKaddy, commented on the company's latest achievement: "The FX3 and CT6 trolleys are truly unbeatable when it comes to performance, reliability and design. It's fantastic to see that two trolleys that have been in the market for several years continue to be so popular with UK golfers, and we're incredibly proud to see them heralded as the UK's best sellers.
"We are fully committed to offering trolleys that suit the needs of any golfer, and we believe that the success of the FX3 and CT6 trolleys highlights that fact."
For more information on the entire range of high-performance trolleys, bags, batteries and accessories, go to www.powakaddy.com.
*Source: Golf Datatech On & Off Channel value & volume, from Jan 2021 to Dec 2022