Engineered with a distinct focus on performance, comfort and style, the Spring/Summer 2023 men's range from PING has a strong focus on two design capsules, both taking inspiration from the long-standing heritage that PING possesses and is an expansive range with a variety of choice to satisfy the style requirements for every golfer.
The Split Ball capsule draws inspiration from the classic two-tone golf ball design that PING founder, Karsten Solheim, first introduced in 1983. The capsule consists of a range of performance garments that feature colours, patterns and prints that pay tribute to the iconic two-tone golf ball.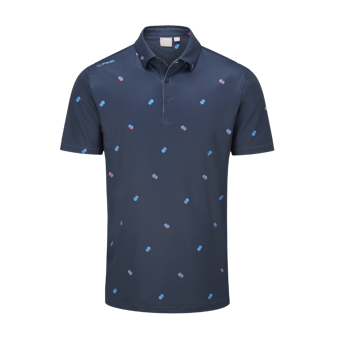 The second capsule pays homage to the distinguished Mr. PING logo, a widely recognised symbolic figure within the golf industry that was originally crafted in clay by a young John A. Solheim in 1967. The SS23 men's collection encompasses this quintessential symbol within a curated capsule of technical polos, shorts and coordinating accessories, all featuring this whimsical caricature of a golfer.
In conjunction with these key heritage themes, the collection introduces three new colour stories for the season, all of which offer a refreshed look, with the opportunity for outfit building. Fresh spring blues, a return of greens and a pastel purple colour palette await golfers seeking that classic golfing outfit.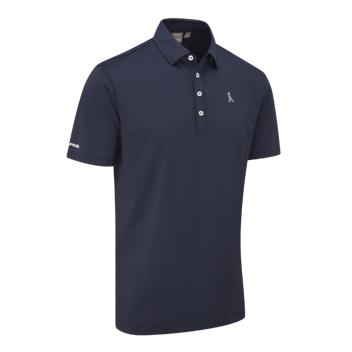 The choice and depth within the range is expansive, with the trouser offering in particular broadening to suit the needs and taste of every golfer. Three trouser styles now make up the collection, offering more silhouettes and fabrics. New for SS23 is the PING Tour Trouser; a tapered leg performance trouser that is cut to fit loosely around the hips and thighs and tapered to a slim fit from the knee down to the hem, to create a sophisticated and modern look. This new style utilises an innovative four-way stretch knitted fabric, offering golfers ultimate freedom of movement in an on-trend modern silhouette.
The Bradley Trouser provides a straight leg traditional fit, with SensorCool and Tekfit technology engineered for lightweight comfort. Finally, the Alderley Trouser offers a slim leg alternative, with a sleek five-pocket design and PING Eye logo to the back.
New accessories further compliment the range to help build colour coordinating outfits, thanks to a wider range of caps, a new PING Stamp Reversible Belt, which has a sleek gunmetal finish, and additional socks that are engineered from SensorCool® fabric technology and are ergonomically fit.
# # #
The Sensor Platform
The Sensor platform from PING is an innovative, technological system, designed to ensure that every garment worn is specifically engineered to respond to the body's requirements and the demands of the game, whatever the conditions.
SensorCool – Engineered to be worn next to the skin, SensorCool technology, featuring moisture-moving properties, draws excess perspiration from the skin. This will keep the golfer dry for the duration of a round and beyond, guaranteeing exceptional comfort levels in all conditions. Each SensorCool garment is crease resistant and formed from stretch fabrics that are designed to complement the athletic movements made during a golf swing. 
SensorWarm – SensorWarm technology embodies a thermal layer, designed to trap warm air and maintain a preferable body temperature. This layer also works as a barrier to resist wind chill and the subsequent effect it can have on a swing. SensorWarm garments are designed to minimise weight and distraction, through the use of breathable and stretch fabrics. Such qualities also enable the garments to work with the golfer's body for optimum playability. 
SensorDry – This technology provides the ultimate, long-lasting waterproof and windproof protection against all the elements. The garments incorporating SensorDry are air permeable and, therefore, truly breathable. The outerwear is specifically cut in lightweight and noiseless fabrics, to eradicate distractions often associated with weather protective garments, while the fabrics used hold stretch qualities intended to move with your body throughout the golf swing.
PING, Mr. PING logo, ENGINEERED TO PLAY, SENSORCOOL, SENSORWARM and SENSORDRY are registered trademarks of Karsten Manufacturing Corporation. All other trademarks are the property of their r