- Rollercoaster year ends with market share growth & positive momentum -
Motocaddy has been named as the top-selling electric golf trolley brand in 2022, growing its UK market share by over a third (35%) compared to the previous year.
According to sales figures released by golf industry research specialists Golf Datatech*, Motocaddy also ranked #1 with on-course retailers last year.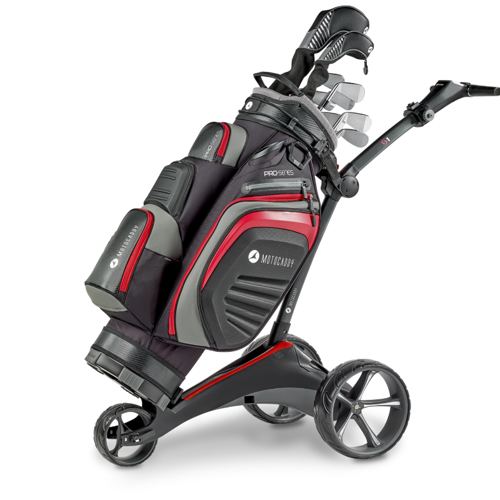 "We want to thank our retail partners for their support in what was a challenging year for the golf industry, and to see the growing popularity of our products is really encouraging," said UK & Ireland Sales Director Steve Morris. "The Datatech numbers show that Motocaddy out-performed other brands in the sector in 2022, including six Motocaddy trolley models featuring in the top-10 best-sellers and three models inside the top-five.
"The figures also confirm that Motocaddy gained significant market share in the second half of last year with a 50% increase over 2021, thanks to the depth and quality of our range offering. It highlights the positive momentum we've enjoyed heading into this season, which has seen the launch of the M7 GPS and S5 GPS models to offer retailers even greater choice for their customers," he added.
Following its launch last Spring, the award-winning S1 model - featuring 1-step folding and a cable-free battery with auto-disconnect, plus quick-access charging port - proved to be the UK's top-selling model for last six-months of 2022 (July to December). The upgraded version of the popular entry-level trolley also achieved a 51% increase in sales from the previous year.
Motocaddy was also confirmed as the UK's #1 pushcart brand for the fourth consecutive year in 2022, with the widely acclaimed CUBE proving the top-selling model during the same period.
Matching the impressive performance of its electric trolleys in the on-course sector, Motocaddy also achieved #1 status for sales of pushcarts in green grass outlets.
"Retailers know exactly what they're getting with Motocaddy – a well promoted award-winning product range with options to suit all golfers whatever their budget, backed by an unrivalled reputation for providing the most reliable products on the market," said Morris. "The recent introduction of the trolley category's first B2B platform – offering 24/7 ordering and stock availability – coupled with eight full-time Territory Sales Managers, helps to make Motocaddy the #1 choice for retailers," he added.
For more details on the Motocaddy B2B platform, please visit trade.motocaddy.com or contact your Motocaddy Territory Sales Manager; and for more information about Motocaddy products including trolleys, bags, batteries and accessories, please visit www.motocaddy.com or follow @MotocaddyGolf.
*Source: Golf Datatech On & Off Channel value & volume from Jan 2021 to Dec 2022.