Over 330 Defibrillators Registered In Support Of Today's Golfer Initiative Across UK Golf Clubs 
Motocaddy has partnered with popular media publication Today's Golfer for the second year running to support its 'Drive for Defibs' campaign, following a successful first year that saw over 330 defibrillators registered across UK golf clubs.
Launched last year, the nationwide campaign aims to see a defibrillator (AED) installed at all 2,270 golf clubs in the UK registered with The Circuit, a database that connects all defibrillators to NHS ambulance services.
Motocaddy is continuing its backing for the campaign that is also supported by the British Heart Foundation and AED provider Code Blue CPR. Currently, just over a third of golf clubs (830) in the country have a registered defibrillator on site, either at the clubhouse or out on the course. The breakdown sees 614 golf clubs in England (33% of the number of clubs in the country) registered on the Circuit, 121 in Scotland (24%), 65 in Wales (65%) and 30 in Northern Ireland (33%).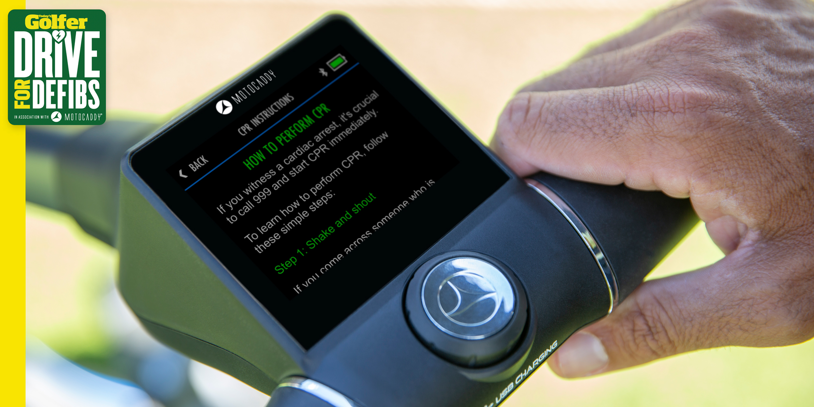 Motocaddy has been leading the push to promote AED units at golf clubs with the locations of defibrillators at more than 700 clubs integrated into the free Motocaddy GPS app, which has had more than 400,000 downloads since it launched in 2017. The locations are also accessible through the handle of the brand's GPS electric trolleys, with crucial CPR steps to follow on the screen at the same time or through the app.
Research shows that time is vital in the event of a heart attack or cardiac arrest. Knowledge of the location of an AED becomes essential and the free mobile Motocaddy app or GPS trolley can instantly pinpoint defibrillator locations.
"We are delighted to be continuing our support for the Drive for Defibs campaign that saw hundreds of extra defibrillators registered at UK golf clubs in its inaugural year, and we hope that it can continue to make an impact and spread such a vital message," said Oliver Churcher, Marketing Director at Motocaddy.
"Motocaddy has always supported AED initiatives and we remain the only brand to have defibrillator locations and CPR information integrated into our products. We believe these features are vital for golfers, especially those suffering from coronary conditions," he added.
Featuring in multiple Today's Golfer print issues of the magazine along with an extensive digital campaign through the TG website and social media channels, the campaign has been relaunched with the help of Bernhard Gallacher, three-time Ryder Cup Captain and Drive for Defibs supporter.
The campaign looks to continue its progress with fundraising days such as the 'Chip in for a Defib Open', in-depth features from golfers and caddies that have benefited from access to a lifesaving AED, as well as a focus on registered golf clubs that have had to use a defibrillator recently, such as Saunton Golf Club in Devon and Temple Newsam Golf Club in Yorkshire.
"I'm the recipient of a defibrillation, that's why I am still here today. I'm living proof that it works, and it can save lives," said Gallacher. "That's why I'm happy to support Today's Golfer 'Drive for Defibs' campaign, to help drive awareness and to make defibrillators as ubiquitous as possible," he added.
"We've always had a defibrillator in our clubhouse, but with such a big piece of land and two courses we recognised that another one would be really beneficial," said Will Smith, Member Services & Marketing Manager at Saunton Golf Club, Devon. One of our members kindly donated a second defibrillator, which now goes out with the course marshal. There's been a couple of instances where we've needed to use it, which really highlights their importance. Every club should have at least one," he added.
"When I saw the Drive for Defibs campaign in Today's Golfer backed by Motocaddy, it made me think that we really needed some kind of insurance for our ageing membership, just in case the worst happens," said Paul Stringer, Vice Chairman of Temple Newsam Golf Club, Yorkshire. "We never had a defibrillator previously, but the club funded one and thankfully it hasn't been used yet, but it's a bit like insurance, you should buy it and hope you never need it," he added.
Today's Golfer Editor, Chris Jones says the figures behind the campaign are a reason every golf club in the UK should take note of its importance. "The numbers associated with cardiac arrests are terrifying – like every 60 seconds without CPR and defibrillation reduces the chance of survival by up to 10%, but 38% of UK adults have never undertaken any form of CPR training. With 7,600,000 people in the UK living with heart and circulatory diseases, it is vital that this information reaches golfers across the UK to make sure that lives are saved," said Jones.
"It is a pleasure to work with Motocaddy again in building the awareness of Drive for Defibs for the second year running. The access to live-saving information on the Motocaddy app and GPS trolley have massively benefited the process in year one of highlighting the value of quick response," he added.
Motocaddy offers a simple six-step guide on 'How to Perform CPR,' which is easily accessible within the main menu of the free Motocaddy GPS mobile app and on all GPS touchscreen trolleys via a red heart logo on the 'Play Golf' screen. Selecting the logo brings up the location of the nearest on-course AED and reminds playing partners to contact the emergency services. The GPS app is free to download on iOS and Android devices from the Apple App Store and on Google Play, while the Motocaddy trolley range is widely-available from local stockists.
To find out more about the Drive for Defibs campaign, visit the Today's Golfer website.
For more information about Motocaddy trolleys, plus other Motocaddy products including bags, batteries and accessories, please visit www.motocaddy.com or follow @MotocaddyGolf.