-Low maintenance & higher profit margins cited as major reasons to switch-
More golf courses have turned to Motocaddy for their rental fleets than ever before this year, with many prestigious clubs and resorts choosing the innovative brand's products for their proven reliability, game-enhancing features and profitable margins.
The world's biggest-selling electric trolley brand offers an award-winning selection of rental fleet options - from the easy-to-use M1 and M1 DHC compact-folding models, to the pioneering M5 GPS and M5 GPS DHC touchscreen trolleys with 40,000 pre-loaded courses. The initial investment is usually repaid in a matter of weeks, offering an excellent profit opportunity and cash generator for the business, while retaining a strong resale value when the fleet is replaced.
Peter Evans, PGA Head Professional at Royal Porthcawl Golf Club in South Wales, is one of many to have chosen a Motocaddy rental fleet to meet the needs of his members and guests.
"We recently switched to Motocaddy as our preferred rental fleet provider and I couldn't be happier," said Peter. "Eventually, we'll have a total of 45 M5 GPS models available to our guests and members. The latter pay an annual trolley rental scheme service fee, so it's very important that the trolleys are reliable and offer them value for money.
"The Motocaddy M5 GPS is a great trolley. It's elegant, yet robust. The graphics on the LCD screen are clear and offer distances, which is great for those who've not played the course before. It's also quiet on the course and the other features make playing the game more enjoyable. The battery charge retention is very good, which also makes our job easier. The one feature I think goes unnoticed is the adjustable handle height. Obviously, not everyone is the same height and having the adjustability at your fingertips is a real plus.
"My advice to other Head Professionals who don't currently have a Motocaddy rental fleet is: get on the phone! We all know having a problematic fleet is a headache and costs us money when they're not working or faulty. The Motocaddy rental fleet can create a new profit centre and it offers a useful 'try before you buy' service to both members and guests," he added.
Ben Thompson, Golf Operations Manager at The Grove luxury resort in Hertfordshire, has also recently introduced a new Motocaddy rental fleet at the former World Golf Championship and DP World Tour venue.
"We pride ourselves on offering golfers the very best customer experience and working with a partner like Motocaddy, which has a strong reputation for producing high-quality, feature-led products, helps to ensure a trouble-free round of golf for our visitors," said Ben.
"We have a Motocaddy fleet of 20 powered trolleys and have been impressed with their reliability, which is an important factor in a busy facility like The Grove. Having a low-maintenance fleet also allows them to be available for customers to hire at all times - a critical consideration for any premium golf resort where the delivery of five-star service is always the primary objective," he added.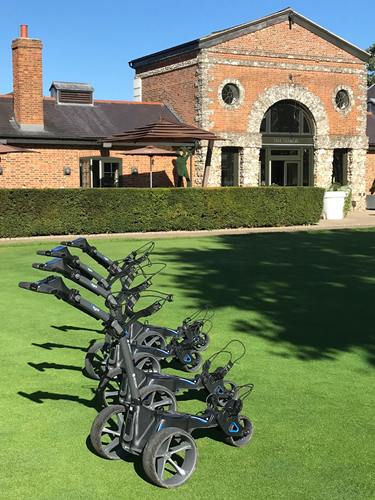 Since the beginning of 2022, Motocaddy electric trolley rental fleets have been taken up by other leading courses and resorts such as Royal Troon, Royal Liverpool, Celtic Manor and Pyle and Kenfig Golf Club, who recently hosted the inaugural R&A Women's & Men's Senior Home Internationals. The PGA Head Professional & Director of Golf at the course in Bridgend, Dylan Williams, said the reliability and functionality of his Motocaddy fleet offers members and guests something extra when they play.
"We have a lot of international visitors here and it sounds small but being able to change from yards to metres in a matter of seconds provides a little bit extra service for them," said Dylan.
"Since receiving my Motocaddy fleet, I've not looked back since getting them in. The M5 GPS offers so much value for money and the golfers love taking them out as they're so easy to use. During the Home Internationals, the Irish team used them a lot as most flew over with just their clubs and they were all delighted with them, plus they're so compact when folded, we can store them away very easily" he added.
"Hearing the feedback from these courses and resorts is fantastic and it's great that our rental models are being used in increasing numbers up and down the country by golfers from home and abroad," said Motocaddy Sales Director, Steve Morris.
"For golfers to be able to try before they buy is a really important sales opportunity for Motocaddy stockists as they can be confident that our reliable rental fleets will offer best in class service to paying members and guests on a regular basis," he added.
For further information regarding rental fleet availability and prices, please contact your Motocaddy Territory Sales Manager and for more information about other Motocaddy products including trolleys, bags, batteries and accessories, please visit www.motocaddy.com or follow @MotocaddyGolf on social media.