- New Grips Build Upon The Brand's Top-Selling Product Features & Benefits -
Lamkin Grips have announced their new additions to the product line-up for 2023. The Sonar+ Black, UTX Green and UTX Blue, and Crossline 360 models have been added to build upon the equity built in the brand's core products. 
Lamkin CEO Bob Lamkin shared that he is "very enthusiastic about the new products we've added to this year's product line-up. We've doubled down on what golfers really like about our products and have extended both the Sonar, UTX, and Crossline 360 product families to provide our customers even more feel, performance, and confidence each time they step onto the golf course."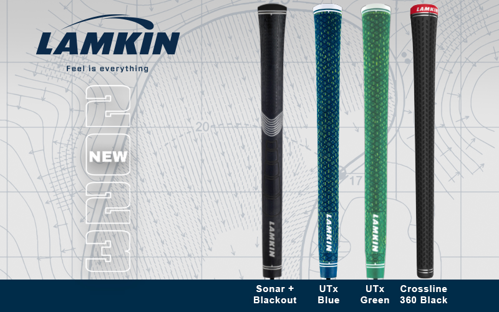 The New Sonar+ Black builds upon the foundation built by our fastest growing family of products. Golfers know this product delivers on comfort as a result of the grip's unique texture pattern offered through Lamkin's Genesis Material and Fingerprint Texture Technologies. Sonar+ Black is a serious offering for the widest range of golfers seeking comfort, performance, and design. Sonar+ Black is available in three sizes – Standard, Midsize, and Oversize.
The New UTX Green and UTX Blue models will support Lamkin's fastest-growing grip on tour with multiple wins in 2022. Positioned as the brand's "tacky cord", this grip has been designed to serve golfers looking to gain confidence by securing an enhanced connection to the club with its unique tri-layer material technology and "x" pattern cord texture. UTX Green and UTX Blue will be offered in two sizes – Standard and Midsize.
Crossline 360 Black is the latest addition to Lamkin's Crossline 360 family. This grip has been heavily requested by consumers after their success on major OEM programs in 2022. Crossline 360 features a unique use of material and a dual-direction texture pattern and designed to serve a wide range of golfers looking for look and feel. Crossline 360 Black is offered in both standard and midsize. Additionally, Lamkin has also added a highly requested midsize model to Crossline 360 Gray and 360 Full Cord Genesis models.
The Sonar Black range is available to order now and pre-orders are also open for the UTX & Crossline 360 landing in the UK Mid-March! To enquire around becoming a Lamkin stockist please contact one of the below Lamkin authorised suppliers:
JS International (Master Distributor) – sales@jsint.com
Northern Golf – orders@northern-golf.com
Diamond Golf – sales@diamondgolf.co.uk