Dear Acushnet Customer,
As we strive to continually improve our customer service levels, we wanted to share the new Acushnet Directory which provides links to all our head office customer service teams. In 2023, we have further invested in this team to enhance the service we provide to you, please direct your enquiries to them as your first point of contact.
The attached Acushnet Directory is a simple interactive tool which can enable you to process all customer service enquiries, together with placing orders and having access to Titleist & FJ assets and universities at the click of a button. Alternatively, if preferred, please continue to use our free phone numbers as shown on the directory.
We recommend that you download this onto your desktop by simply saving the attached file.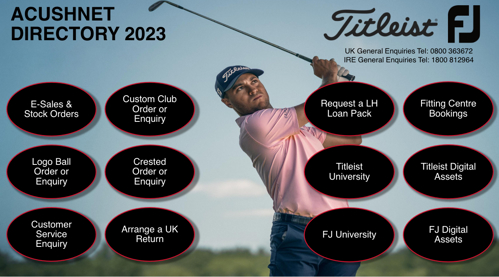 If you do not have an E-sales account, then please email esales44@acushnetgolf.com who will be able to get you signed in to process stock orders and returns. Please note Irish customers are still to process returns enquiries in the current manner, due to courier restrictions.
With our sales teams prioritising their time supporting partners in the field, utilising the additional resources at Head Office will allow us to provide you and your customers with the quickest and most efficient service.
Thank you for your continued support and we wish you all the very best for the season ahead.
Kind regards,
Sue Spriggs
Customer Service Manager