Latest garments incorporate innovative GORE-TEX fabrics for unrivalled rain protection.

Leading high-performance golf apparel brand Galvin Green offers golfers its most all-encompassing rain wear line-up yet to help overcome the increasingly unpredictable weather patterns faced during a round of golf.
The latest fully waterproof range offers a first-class jacket and pant pairing in the uncompromising GORE-TEX stretch with C-KNITTM backer fabric; ten designs crafted using the lightweight GORE-TEX Paclite® technology; and five styles with mesh lining for added warmth. A total of eight functional models incorporate stretch fabric for added flexibility during the golf swing.
"Utilising the best-performing waterproof membrane on the market in the most fit-for-purpose rain wear pieces is testament to our never compromise approach to product design," said Product Manager Sofia Ask Klason. "With our extensive offering using a number of different fabric technologies, serious golfers have a stellar choice of responsibly sourced designs that meet the requirements faced when playing in increasingly unpredictable and demanding conditions out on the golf course," she added.
A decade ago, in 2013, the first Galvin Green GORE-TEX jackets and pants using bluesign® approved eco-friendly fabric were added to the range. All waterproof garments in the latest line continue to use these sustainable materials that maximise a golfer's performance; while, at the same time seek to minimise social and environmental impact.
New flagship jacket
Leading the range is the striking new ALISTER jacket - offering the most premium performance- enhancing and reliable waterproof features on the market. The full-zip model is crafted using GORE- TEX stretch with C-KNITTM backer fabric and features a smooth 'slide and glide' interior and Superstretch inserts across the back and elbows for unrivalled freedom of movement in the swing.
The addition of reinforced TechsteelTM material at the shoulders delivers greater durability without compromising movement during the swing. It also features water repellent zippers, front pockets and a chest and collar width for extra comfort and protection in adverse weather conditions.
The matching ALPHA superstretch waterproof trousers with C-KNITTM backer are available in as many as 15 different size options across waist and leg lengths. The pant includes an elasticated waist and drawstring for the perfect fit; adjustable leg width; front pockets with fleece lining; a zipper fly opening and water-repellent zippers; plus an abrasion-resistant fabric on the leg hem.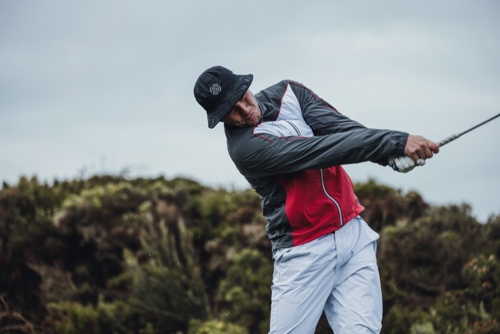 Packable options
Suited to golfers with limited space in their golf bag, the award-winning ARMSTRONG men's jacket in GORE-TEX Paclite® fabric with enhanced stretch capabilities offers great flexibility during a round of golf. The tri-blend design weighs in at just 300 grams (in size medium) and features shaped sleeves to allow for a full range of movement in the golf swing; an adjustable chest width and front pockets for increased comfort. It is available in as many as seven striking colourways and is designed to paired with the matching ARTHUR Paclite® pants.
A new addition to the women's GORE-TEX Paclite® range is the sleek ALLY jacket with contrast detailing on the zipper and sides. It features shaped sleeves to deliver seamless movement in the swing; welcome details like front pockets and a two-way front zipper; as well as a repositioned side seam for optimum comfort. It comes in three stylish colours and is best paired with the ALINA pants also featuring GORE-TEX Paclite® stretch fabric in a number of sizes for the perfect fit.
Lined waterproofs for added warmth
The sporty ALBERT men's jacket is a great option for those golfers seeking a fully waterproof style that stands up to the test on cold wet days. The lightweight mesh lining delivers an added warming effect by trapping warm air between the body and clothing pieces, while the use of stretch fabric in the design ensures golfers can continue to swing comfortably regardless of the weather. New colourways include White/Navy/Orange and Navy/White/Blue combinations.
Another popular model is the ARLIE jacket that can be paired up with layers underneath to ensure optimal performance in rain, wind and cold. It is available in three colours and up to 5XL in size.
Complimenting the two men's lined jackets are the breathable ANDY pants with an elasticated waist and drawstring ensuring an optimal fit, plus strategically positioned abrasion resistant fabric at the leg hem.
For women golfers, the sophisticated ANYA jacket with mesh lining delivers a clean look when paired with the matching ANNA pants. The functional jacket incorporates useful features like an inner chest pocket and convenient two-way front zipper and is offered in four stylish colours including a new Blue/Reflex option.
Last year, the brand marked three decades of innovation using GORE-TEX fabric across its full range of waterproof garments. From the very first Galvin Green rain jacket to the full-featured ALISTER jacket of today, the brand has sold almost 1.3 million GORE-TEX garments.
For details of the latest rain wear line-up, visit www.galvingreen.com