Following on from the success of last year's Sustainability Series beach clean, OCEANTEE returned to the Genesis Scottish Open with the Marine Conservation Society and 40 children from the East Lothian region for a day of research and education. The Seashore Safari took place on the beautiful stretch of beach down by the signature 13th hole of the Renaissance Golf Club. Stephen Gallacher, Joost Luiten and Dan Bradbury weren't shy to get involved with the activities too, helping out as the youngsters learnt about marine life on the shoreline.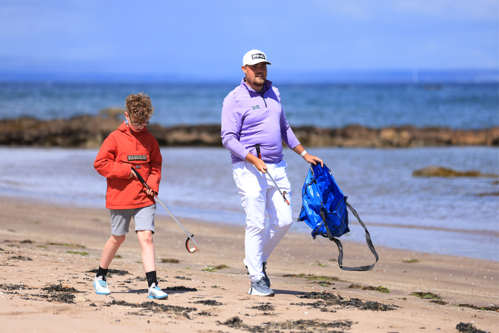 Beyond just cleaning the beach, the team collected and compared this year's waste with data from 12 months ago to understand whether pollution levels had improved or deteriorated. Despite the pristine appearance of the coastline the team found over 8kg of waste - 3kg more than last year - details of which will be added to the Marine Conservation Society's national research database. OCEANTEE Ambassador Inci Mehmet also took part in the beach clean. Amongst other things, her group found microplastics, which are tiny pieces of plastic waste that together make up one of the biggest problems our oceans face.
"This is always a highlight of our year as it brings together everything that is important to us as a brand," commented Ed Sandison Founder of OCEANTEE. "As much fun as this is, collecting data like the children and players have today, helps to identify changes that need to be made to improve the future health of the ocean. The children and players have been incredible and it's brilliant to see how passionate they are about making a difference and learning about the world around them."
Kirsty Crawford, Community Engagement Officer at the Marine Conservation Society, led the beach clean and Seashore Safari. She said, "It's great to see so many children interested in the environment and finding out what lives on our shores. Once young people experience our coastline for themselves, it instils a passion for the ocean and reinforces the need to protect it. A big thanks to OCEANTEE for facilitating such a fantastic event."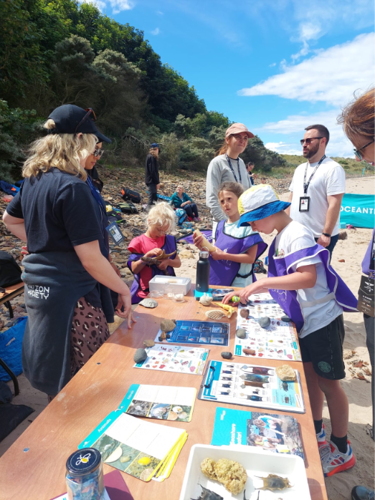 As well as young golfers from the Golf Sixes League and The Stephen Gallacher Foundation, joining the activities for the first time were children and volunteers from the Scottish Seabird Centre based in North Berwick. Susan Davies, CEO, Scottish Seabird Centre said "We were delighted that OCEANTEE invited kids from our summer holiday club to join them in a beach clean and educational games at the Genesis Scottish Open. Golf contributes significantly to tourism in Scotland and it's good to see progressive steps being taken towards creating more sustainable events as well as creating opportunities for local children to get involved."
For more information on OCEANTEE and its sustainable product range visit www.oceanteegolf.com