- Latest handcrafted shoes offer top performance through super-stable spiked design -
Luxury golf shoe brand Duca del Cosma is introducing a stunning PRO SPIKE COLLECTION of Tour-level waterproof shoes incorporating technical game-enhancing features that deliver unrivalled stability and comfort to help more golfers play like a pro in all playing conditions. The innovative BERNARDO and ORLANDO men's shoes and SABINA and AVANTI styles for women golfers use advanced technologies in every detail of the handcrafted build to offer dependable performance and a super-stable fit. Optimised outsole traction helps to achieve a solid stance, increased speed and enhanced stamina for top performance from the first tee to the closing stretch.
Featuring a fashionable white outer with a contrasting red outsole, the styles are endorsed by the brand's global Tour ambassadors, including 6-time DP World Tour winner Joost Luiten, LPGA Tour contender Kelly Tan, and rising LET and DP World Tour stars Pasqualle Coffa and Daan Huizing.
"We've designed and extensively tested the beautiful PRO SPIKE COLLECTION in close collaboration with our Tour players to offer all golfers the ultimate pair of top-performing golf shoes this season," said Creative Director Baldovino Mattiazzo. "Tour players seek stable footwear they can depend on as the basis of a consistent swing. With this focus in mind, these latest styles reflect our approach in driving our Italian Golf Evolution forward to give more golfers greater enjoyment in the game," he added.
Each shoe in the new collection features a sturdy Airplay 6 outsole crafted from a highly durable and responsive TPU material to deliver ultimate stability at every phase of the golf swing. Strategically positioned Softspikes PULSAR cleats, matched with secondary 5mm traction nubs on the outsole, offer exceptional grip across all ground conditions. A recent independent study conducted by The Golf Lab in Canada concluded that spiked golf shoes provide golfers with more consistency in hitting the sweet spot, greater accuracy and improved distance by up to five yards compared with spikeless shoes.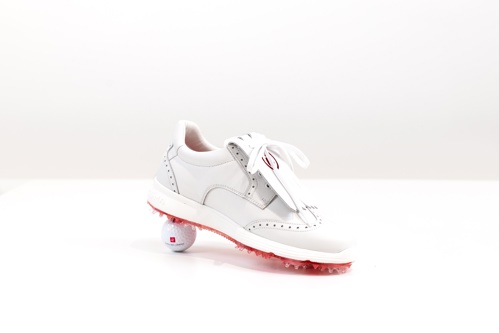 PRO SPIKE COLLECTION
A lightweight EVA midsole provides substantial shock absorption and helps generate maximum power during the swing, whilst the premium PRO insoles deliver guaranteed all day comfort and incredible breathability. A toe bumper offers added protection when the foot twists during the downswing.
For men, the dashing BERNARDO embodies a classic brogue style design to offer supremely sophisticated looks, whilst the sporty ORLANDO is a more contemporary design for fashion conscious golfers.
Commenting on the latest Men's styles, two-time Dutch Open champion Luiten said: "Power in the golf swing comes from stability and as Tour players we demand that from our golf shoes to perform at the highest level. Walking the long courses each week on Tour in the new Duca shoes makes a big difference and it gives me confidence knowing my footwear is up to the test."
Women golfers can expect to brighten up the fairways in the classic SABINA style with a removable kiltie, while the sporty AVANTI shoe provides striking looks with a modern twist. "The refreshing spiked models match style with functionality and guarantee that I stand out from the field each week," said Tan, who played some of her best golf last season on the LPGA Tour. "The exceptional stability on offer makes sure I am consistently on the top of my game, knowing I have the traction required to deliver maximum performance in the golf swing," she added.
The shoes are handcrafted in Europe and available from in sizes 40 to 47 for men and 36 to 42 for women. 
Duca del Cosma sells its premium golf shoes in 46 different countries and operates from four offices around the world - The Netherlands (HQ), United States, United Kingdom and South Africa.
For more information on the PRO SPIKE COLLECTION, please visit www.ducadelcosma.com.