Andy McMurdo of Dunfermline Golf Club was crowned Srixon Amateur Champion at the stunning Dundonald Links this week on Scotland's Ayrshire coast. He also picked up the prize for the team event, having topped the scoreboard along with Kevin Moran, Head Professional at Dunfermline Golf Club.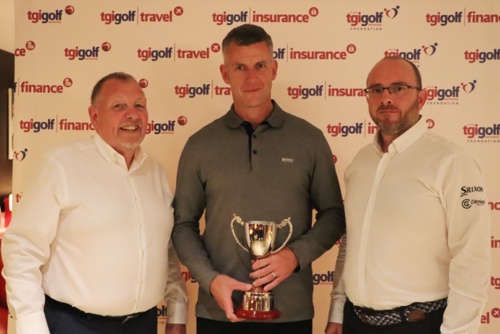 Eddie Reid - TGI Golf, Andy McMurdo, Gareth Taylor - Srixon
After winning the individual event with a Nett Stableford score of 37 points, Andy said: "It's been an absolutely fantastic day, I was really looking forward to playing this great course but also to play with the professionals, amateurs don't get the opportunity to do that very often.
"I played in the qualifying medal in May and it has been great to watch the leaderboard in the build-up to the final.
"Winning both the team and individual events on such a lovely day and great course is amazing, it couldn't have been better."
The team event, in which the prize goes to the Pro and Amateur with the highest combined Stableford score, went to the duo from Dunfermline with a score of 69 points.
Kevin Moran, Head Professional at Dunfermline Golf Club said "Its been a fantastic day, it is a great event to get involved with. This is the second time I have played in the final - its perfect for building relationships with members and getting to know guys like Andy on a more personal level."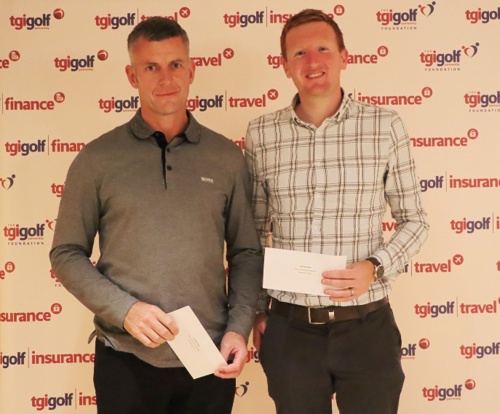 Andy McMurdo & Kevin Moran 
The title of Srixon Amateur Champion goes to the top amateur golfer within TGI Golf's stable of Partner venues, the Amateur Championship, gives Partners the chance to offer their members an amazing experience.
In association with Srixon, prizes are supplied to Partners to hold a monthly medal as a Srixon Amateur Championship qualifier. The winners of the events are then placed on a national leaderboard, with the top 20 going through to compete in the grand final, with their Pro.
Group Services Director, Adele McLean said: "For the eighth year we have hosted the Srixon Amatuer Championship Final, this time at the wonderful Dundonald Links. Everything from start to finish was perfect and the sun even shone for us!
"Congratulations to all the amateurs that made it to the final and thanks to the TGI Pros that played alongside them and, of course to Andy, this year's Amateur Champion. I'd also like to say a huge thanks to Srixon for sponsoring and providing prizes for the 90 qualifying medals and the final event.
"It was lovely to hear so many of the competitors saying it was one of the best events they have ever played in."
Gareth Taylor, Srixon Head of UK & Ireland Sales, added: "Thanks all the TGI Partners who hosted qualifiers and  the whole TGI Golf team, without that support this event would not be possible and I'm delighted to say that Srixon's sponsorship of the event will continue into 2024."