Yumax Fraud Warning
21 May 2020
We have been contacted this week by Yumax to warn us about scam emails doing the rounds purporting to be from the company.
Criminals are luring customers to fake Bankline websites that capture PINS, passwords and other credentials.
These fake sites additionally ask you to enter your telephone number and to confirm it by providing a smartcard code.
If you experience this journey, stop and call the Fraud Team for immediate assistance on 0345 300 8483.
Do not access Bankline or other banking webpages through Google.
With remote working increasingly common, remember that anywhere staff might work becomes an extension of your workplace and security needs to be maintained at the same level.
We are aware that fraudsters are exploiting the spread of COVID-19 coronavirus to facilitate various types of fraud and cybercrime and it's very important for employees to be aware of the dangers.
We recommend they are continually reminded of the risks of fraud and cybercrime, and what they should do to protect themselves and your business.
Yumax has lots of resources to help you, so please get in touch if you have any concerns.
See below an example of the scam email: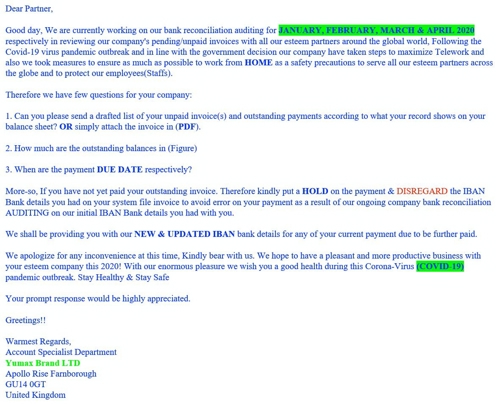 Share this