Woosnam to represent SkyTrak on Tour
22 September 2020
Major-winner signs with SkyTrak after using it at home to regain fitness
1991 Masters champion, World Golf Hall of Famer and new Legends Tour ambassador Ian Woosnam OBE will represent SkyTrak when he returns to Tour golf for the 2021 season.
The European golf icon will now sport a SkyTrak-branded golf bag and will wear SkyTrak-branded clothing and headgear when he plays.
With the 2021 Legends Tour (formerly Staysure Tour/European Senior Tour) set to commence in late 2020, Woosnam expects to play a busy schedule over the next year including a few months competing in the USA in early 2021 before returning to Europe for the bulk of the Legends Tour season.
Woosnam has been using a SkyTrak to keep his game sharp at home in Jersey, and cites it as having played a key part in his recovery after a recent major back operation.
"I am absolutely confident in the numbers which SkyTrak gives me" said Woosnam. "I practice controlling my ball flight and spin rates on my SkyTrak at home, and it also gives me the accurate data I need for distance control.
"I generally hit either a soft or a hard draw, and SkyTrak gives me precise details of my Launch Angle degree and Side Spin rates as I work through the bag. I practice intensively on it.
"Amateur golfers don't realise that it's less about how far you hit it, and more about whether you can hit it squarely. SkyTrak helps me tune my swing and find that consistent impact. It is also great if you're looking to change your golf ball, which is something I also did recently on my SkyTrak at home."
In 1987, four years before he won The Masters, 'Woosie' was diagnosed with ankylosing spondylitis (AS) – an arthritic condition which produces long-term inflammation of the joints of the spine. Despite this, the Welsh star battled hard to become one of the game's longest hitters and most prolific winners on Tour, and was in the vanguard of European golf's rise in the late 80s and 90s alongside Seve Ballesteros, Nick Faldo, Sandy Lyle and Bernhard Langer – European golf's historic 'Big Five'.
In January 2020 Woosnam had an operation on his L2 and L3 vertebrae to help correct his back condition, and subsequently lost 20lbs as he recovered his fitness and strength during lockdown by playing golf every day at his beloved La Moye Golf Club on the island of Jersey.
"Although golf courses in Jersey stayed open during the pandemic, I spent the majority of my pure practice time on the SkyTrak back at home" he said. "I need to play golf quickly to keep my body warm, so my SkyTrak enables me to keep the intensity at the right level, while I practice.
"The back operation has worked wonders and after countless hours on the SkyTrak I am feeling good about taking my game back out on Tour again."
James Holmes, General Manager UK & Europe, said: "The worldwide SkyTrak team is energised by having Ian Woosnam on board. He is one of the true greats of the sport.
"This isn't just an endorsement deal where a player simply wears the logo. Ian owns and uses a SkyTrak at home, and really puts it through its paces, week in, week out. Working with a Tour player of his calibre is helping us to develop the product for the future for golfers of all skill levels – whether or not they own a Green Jacket!"
For all you need to know about SkyTrak, please see www.skytrakgolf.com, or call +44 (0)1844 296350, or email sales@skycaddiegps.co.uk.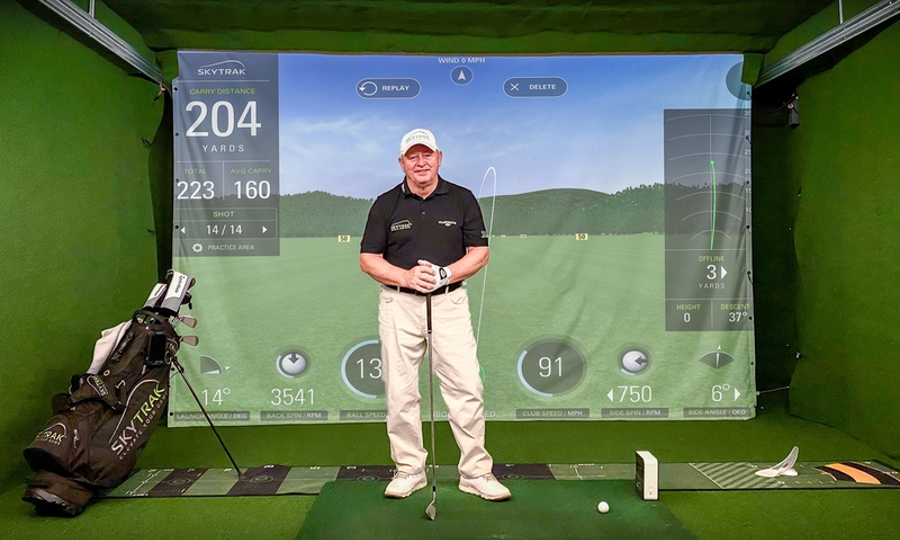 Share this