TaylorMade Announces New 2019 Golf Bag Line Up
31 January 2019
Next Generation of Golf Bags are the Company's most Technologically-Advanced, Feature-Filled Models to Date
TaylorMade has announced the release of its new 2019 golf bag line, which utilise the company's popular and proven FlexTech technology. Combining ultimate functionality with aesthetically appealing design elements, the 2019 TaylorMade golf bag line utilises premium materials with increased attention to detail in every aspect of creation, resulting in the company's most well-rounded, ergonomic golf bags to date.
In 2019, the company has placed continued emphasis on the category that has realised significant growth – nearly tripling its market share – in the last three years. This has been accomplished by utilising extensive consumer research and an overhauled development process to create golf bags with strength, durability and efficiency from the ground up.
There are two primary features that highlight each of the new 2019 bags: the company's proven FlexTech base system & an all-new self-adjusting strap system that allows for a stable, comfortable carry. The FlexTech base system is a multi-piece collapsible base that allows for easy deployment with additional space that negates club crowding. The all-new self-adjusting strap system allows golfers to have balanced bag without having to adjust cumbersome straps. Without a back pad the straps are more effective when utilised as a single or double configuration.
FLEXTECH AND FLEXTECH WATERPROOF STAND BAGS
Highlighting TaylorMade's 2019 golf bag line are the FlexTech and FlexTech Waterproof golf bags, featuring a unique construction that has each main side pockets built into the center of the golf bag to create a single piece construction that allows for more storage without adding weight.
The overall design was a result of market research that showed a significant percentage of people who purchased the previous generation bag also use them in carts in addition to walking during rounds. The bag was designed for more pocket space and features a cart strap passthrough to allow easy access to the oversized apparel pocket through a unique single piece construction. 
In addition to the FlexTech Stand Bags, TaylorMade is also introducing the first generation of the FlexTech Waterproof Stand Bag, designed to appeal to customers seeking protection from the rain with the same performance features as the FlexTech bag. The FlexTech Waterproof Stand Bags offers 5 waterproof welded pockets and an umbrella holder.
Further validating the bags at the highest level, TaylorMade Tour staffers Jon Rahm, Beau Hossler & Chez Reavie, among others, will be carrying the FlexTech Stand Bags this week at the Waste Management Phoenix Open in Scottsdale.
FlexTech Stand Bag:
Weighing only 2.4 kilograms, the FlexTech Stand Bags are each offered in 4 colourway options and have been designed with the following features:
5-way organisational top
Water-resistant, seam-sealed valuables pocket with micro suede lining
Anti-split stand system
Full length dividers to eliminate club crowding
11 pockets
FlexTech colourways: titanium/blood orange, charcoal, blood orange/black, and navy/red/white.
RRP £179/€249
FlexTech Waterproof Stand Bag
Weighing a light 2.1 kilograms, the FlexTech Waterproof Stand Bags is offered in 5 colourway options and has been designed with the following features:
5-way organisational top
Waterproof welded pockets
Umbrella holder
Anti-split stand system
Full length dividers to eliminate club crowding
6 pockets plus 1 open pocket for drinks
Comfort back pads
5 Colourways: royal/white, navy/white/red, red/white, silver/red, grey/white
RRP: £229/€289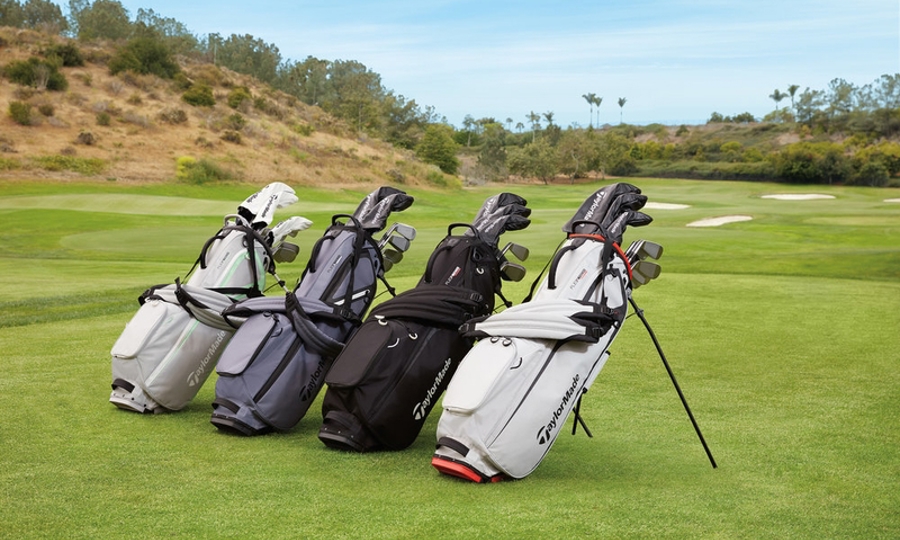 Share this