Sun Mountain H2NO Vision Golf Umbrella - 68 Inch Dual Canopy, Double Vision Window
3 September 2021
The NEW H2NO Vision Umbrella from Sun Mountain is a fully featured, high-quality Golf Umbrella.
The auto opening 68-inch dual canopy is large enough to provide shelter from the rain, but it also prevents the umbrella from inverting in the wind. The H2NO Vision Umbrella provides sun protection due to its 50 SPF ultraviolet protection coating (on the inside of the umbrella).
The clear double Vision window panels enable you to see through the canopy and to see the way ahead when it is mounted on a golf trolley or whilst you are walking along the golf course.
The H2NO Vision Umbrella also features a NEW 'Tipless Design' (less likely to cause injury) and a patented durable Fibreglass frame.
The Vision canopy is made from a sturdy Nylon construction and is extremely wind resistant. The Vision Umbrellas have an ergonomic handle and are available in four stylish colours:
Black
Burgundy
Cobalt Blue
Navy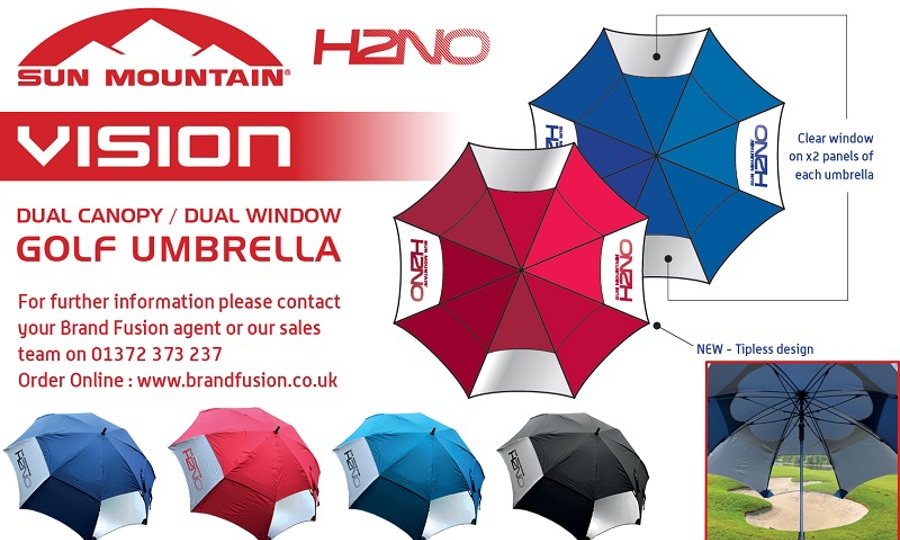 Share this