SkyCaddie's New LX5 GPS Smart Watch Is Here
18 June 2020
SkyCaddie, makers of the most-trusted rangefinders in golf, announces the new LX5 GPS Smart Watch which packs golf's only truly comprehensive ground-mapped course data into the game's largest and most-brilliant wearable HD colour touch screen at 1.39 inches.
The new LX5, which is available in the UK from late June 2020, features next-generation tech including powerful, exclusive-to-SkyCaddie features such as HoleVue® and IntelliGreen® Pro – giving golfers much more instant, accurate information than a laser.
It is the most powerful wearable rangefinder golf has ever seen, and is the closest thing to having one of SkyCaddie's award-winning SX500 and SX400 rangefinders on your wrist.  Ready to go out of the box, with a three-year premium Worldwide Membership at no extra charge. It also has robust connectivity such as Bluetooth and Wi-Fi which allow you to sync your scores and stats wirelessly with SkyGolf 360.
 "The LX5 is SkyCaddie's most powerful wearable GPS rangefinder yet" said James Holmes, SkyCaddie General Manager UK & Europe. "Never has a golf watch given you so much information about your next shot, but the beauty of the LX5 is we've kept it simple, easy and incredibly fast to use. The LX5 is packed with most of the dynamic features which golfers rave about in our award-winning SX500 and SX400 handhelds"
Holmes is also confident that SkyCaddie's unique mapping methods put it clearly ahead of the competition. "A Tour Pro would not rely on a satellite mapped course, so why should you?" he said. "The LX5 comes preloaded with over 35,000 HD SkyCaddie course maps – all of which are accurate after being ground-verified, mapped on foot, and updated whenever golf courses make changes.
"That's why no other GPS rangefinder comes close to a SkyCaddie when it comes to accuracy".
The new SkyCaddie LX5 has already received the 2020 Editor's Choice award from Golf Monthly. "To cram in similar features and the level of detail we see on the SkyCaddie SX400 in a GPS watch is an impressive feat" said the magazine.
With the LX5 you can Zoom and Pan across the image to get all the details and distances you need to play your best golf – and all from your wrist. Plus, the responsive and easy-to-use LX5 interface makes navigating intuitive and almost touch-free, while you are out on the golf course.
The LX5 is water-resistant and boasts a hi-capacity rechargeable Li-Polymer battery that lasts up to two rounds and more than three days in time mode. It allows you to score as you play and track stats such as total score, total putts, fairway hit or miss, greens in regulation and a host of other features, all easily accessible on the large touch screen.
Two user-replaceable, soft-touch silicon bands are included with your SkyCaddie LX5 for comfort and best fit.  And away from the golf course the LX5 also offers multiple watch faces and time-related functions, plus a Heart Rate Monitor and Step Counter with Distance Walked.
SkyCaddie is golf's only GPS brand which creates and updates every UK golf course map on foot, recording thousands of points per course with sub-meter precision, with professional course mappers using survey-quality equipment. The resulting maps are accessible to SkyCaddie users only.
The SkyCaddie LX5 GPS Smart Watch retails for just £299.95 (€349.95), including a three-year premium Worldwide Membership.
For all SkyCaddie information please visit www.skycaddie.co.uk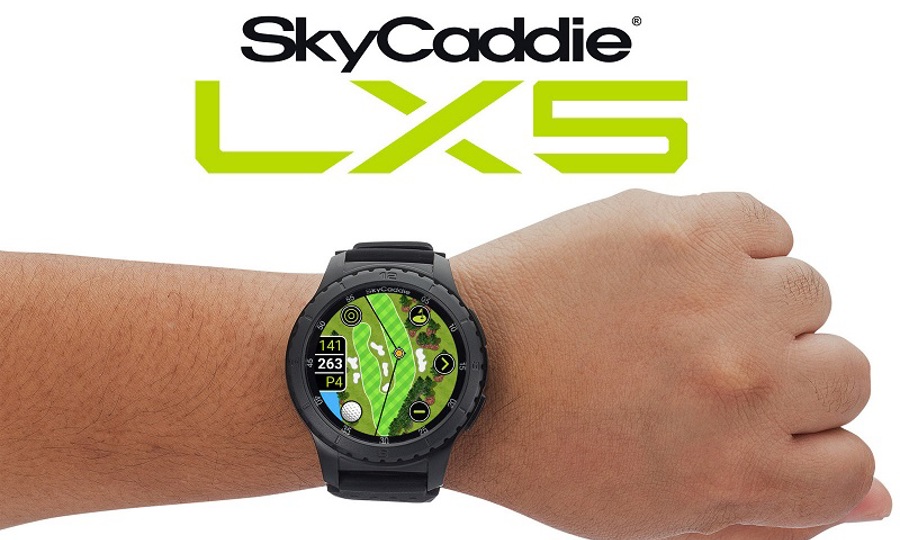 Share this