SKECHERS PREBOOK REMINDER, PREBOOK WINDOW CLOSES END OF SEPTEMBER
22 September 2022
SKECHERS PREBOOK REMINDER, PREBOOK WINDOW CLOSES END OF SEPTEMBER 
JOIN MATT FITZPATRICK BY PARTNERING WITH SKECHERS GO GOLF® FOR 2023 TO ELEVATE YOUR FOOTWEAR OFFERING TODAY
FULL IN-STORE MERCHANDISING SUPPORT WITH
SKECHERS GO GOLF
DELIVERING MORE SOLUTIONS AND ENHANCED PRODUCTS TO DRIVE YOUR SALES IN 2023.
UNLEASH YOUR SALES POTENTIAL WITH SKECHERS GO GOLF® 
More Performance Technology than ever before delivers enhanced Skechers' signature comfort and exciting new styles this season.
Skechers GO GOLF® – The Comfort Technology Company continue to raise the bar in delivering market-leading comfort, game-changing performance technology and a variety of exciting new designs for this season across their men's and women's collections. 
The 2023 Skechers GO GOLF® footwear collection delivers unique performance technology, exciting new designs, and ultimate comfort for men and women. Integrating comfort technologies from Skechers' award-winning running and lifestyle divisions and key insights from our roster of Skechers Performance tour pros, this will be their most advanced collection of golf shoes yet as worn by Matt Fitzpatrick.
Skechers Prebook Window Closes Friday 30th September at 3pm.
Skechers POP: Is your Skechers shoe display up to date and creating sales?
Skechers POP: New Skechers displays available.
With a comprehensive range of superior POS readily available through your sales agent and our expanding lines of quality footwear, we are providing you with everything you need to convert more sales.
Encourage a golfer to try on a pair of Skechers shoes and let them experience first-hand our high levels of comfort, quality construction and durability. Along with our innovative styles and colour combinations, Skechers GO GOLF® shoes can be your easiest and fastest sale of the day.
To find out more about our products or to discuss how we can help you enhance your Skechers GO GOLF® instore display contact your sales agent or call 0330 331 0192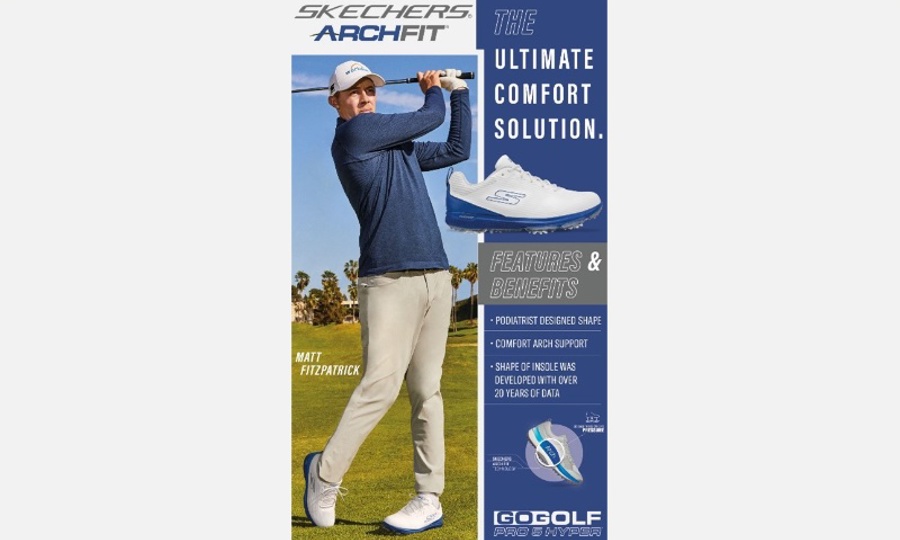 Share this