Raise Your Game In The Spieth 3
30 January 2019
Spieth's Third Signature Shoe Delivers Performance Benefits in the Three Key Areas Golfers Need
Golf is a sport driven by the feet. Walking from shot to shot, every step bringing you closer to the hole. Every element of your shot – the traction, the torque, the power and the precision – comes from the ground up, and few know this better than 3-time Major Champion Jordan Spieth. So when it was time to bring the Spieth 3 to life, Jordan tasked Under Armour's design team with developing the most technologically advanced golf shoe on the market.
Using a data-driven approach, the brand took the development process across the pond to consult J.J. Rivet, a leader in biomechanics at the European Tour Performance Institute. Under Armour incorporated J.J.'s unique scientific insights into the torqueing and rotation of the golf swing, and how it starts with foot stabilisation and ground contact, to inform the patented traction technology in the shoe.
"JJ Rivet's invaluable expertise and deep knowledge of the biomechanics of the golf swing helped the UA golf footwear team focus on specific key design elements in order to deliver the most technologically advanced golf shoe we've ever produced," said Mike Forsey, Director of Global Golf Footwear.
The Spieth 3 is the lightest weight Spieth golf shoe to date, while maintaining stability and structural support. Jordan worked with UA's research team to determine three must-haves that could not be compromised in the construction of the Spieth 3.
Traction To Support The Swing
When a golfer swings, the forefoot rotates laterally and the heel rotates in the medial direction. When the swing comes back to impact, the foot wants to twist out from under the golfer, resulting in foot slippage. The Spieth 3 uses patented rotational resistance and traction, both vertically and horizontally, to keep the feet on the ground as long as possible. The golfer is able to use the ground for leverage to power the swing and prevent slipping, ensuring maximum control and minimising power loss.
Mike Forsey, said: "Traction is what separates golf footwear from street shoes. Under Armour Golf continues to be the only golf footwear brand speaking to traction to support the golf swing. With the Spieth 3, we've added vertical traction elements which allow the golfer to naturally harness vertical force to bring more power to the ball at impact."
Comfort While Walking The Green
At Jordan's request, the overall weight of the Spieth 3 is significantly lighter than past models. To provide the most comfort and stability when walking the course, the Spieth 3 has an upper with microfibre in the heel and a smartly woven jacquard in the forefoot.
Waterproofing For Any Elements
Jordan is in his shoes for up to 10 hours at times, so the Spieth 3 was given a waterproof and breathable membrane designed to release perspiration while keeping water from entering. Jordan wanted a zero-distraction shoe, built to perform in any climate, and he got it.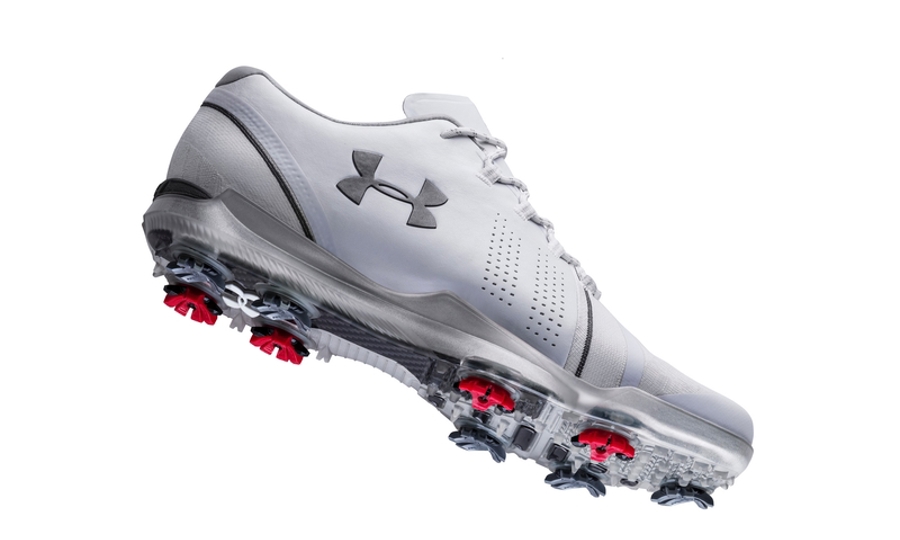 Share this