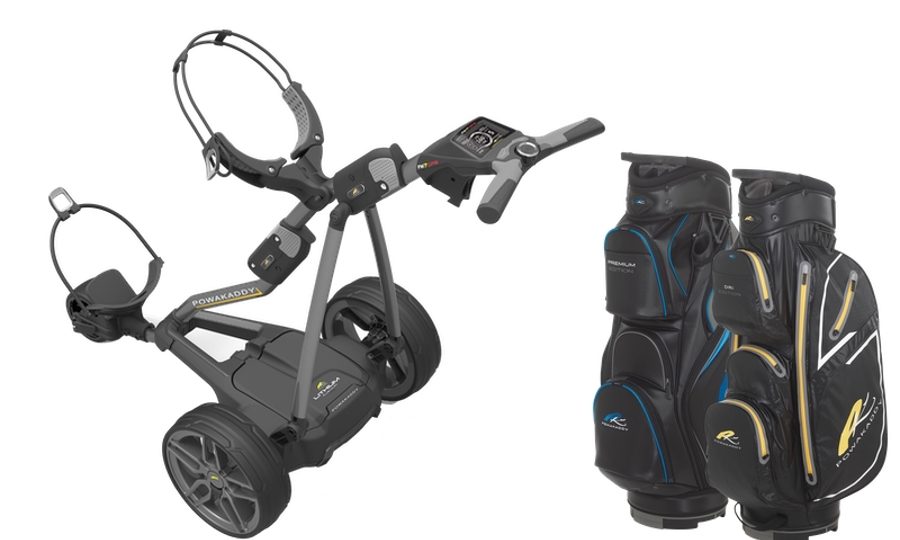 Market-leading golf trolley brand PowaKaddy has launched an exciting cart bag promotion for winter. Golfers will receive a FREE cart bag when purchasing any new PowaKaddy lithium trolley.
Starting on Monday 5th November and running until midnight on 24th December 2018, every golfer who buys a PowaKaddy lithium trolley will be entitled to a free PowaKaddy Cart Bag worth up to RRP £229.99. Golfers can choose from any of the brand's current electric trolleys, including the award-winning Freeway range, the revolutionary FW7s GPS and the Ultra Compact C2i model.
The promotion is ideal for those seeking a cost-effective way to upgrade their trolley or a perfect Christmas gift for a friend or loved one. Those who purchase an FW7s, FW7s EBS, FW7s GPS or Compact C2i lithium trolley can choose a free PowaKaddy Dri Edition or Premium Cart Bag. Golfers opting for the FW5s will receive a choice of the Premium Cart Bag or Deluxe Bag with an accessory. Those who purchase the popular, entry-level FW3s will receive a Lite Cart Bag. 
The four bag models that feature in the winter promotion all offer a wide range of features and benefits. The top of the range Dri Edition bag weighs just 2kg and has a super-lightweight Nylon fabric boasting four-times the waterproof performance of all standard models on the market. The high-tech, 10,000mm waterproof fabric provides 100% protection against all winter elements. The Premium Edition Bag is constructed from lightweight vinyl and PU materials and offers an impressive range of features, whilst the Deluxe bag offers a sleeker option with 14 full-length dividers and plenty of storage.  Finally, the Lite Edition Bag is the perfect lightweight solution, and features 14 dividers, seven storage pockets and PowaKaddy's unique lift handle for easy handling.
PowaKaddy's UK sales manager, David Howse, commented: "PowaKaddy cart bags are the ideal match for our electric trolleys. This great promotion allows golfers to choose from any electric model in the range and take full advantage of the features and benefits of both the bags and trolleys. Our summer promotion was very well received, and we're excited to be able to help our retail partners with more sales incentives this winter leading up to Christmas. The promotion will only run whilst stocks last so we'd encourage customers to order soon to avoid disappointment!"
In helping its stockists to publicise the promotion over the next seven weeks, PowaKaddy will be mailing out POS materials and the sales team will also be on hand to answer questions and supply any additional stock required to handle extra demand during this period.
For further information on PowaKaddy, visit www.powakaddy.co.uk, ring 01795 473 555 or email sales@powakaddy.co.uk.