Now The Hard Work Begins (Again)
3 May 2021
Originally written in September 2020 for Golf Retailing Magazine, this piece from Managing Director Eddie Reid is just as relevant today as golf booms again, as it was then.
-------------------------------------------------------------------------------------------------------------------------------------------------------------------------------
September 22nd, 2020
The post-lockdown boom in golf has been a welcome sight for the golf industry, but as Eddie Reid, TGI Golf Managing Director explains, the hard work starts now
Six months ago, we all stepped into the unknown – life threatening pandemics are not our area of expertise – and we all looked at our leaders and each other for help,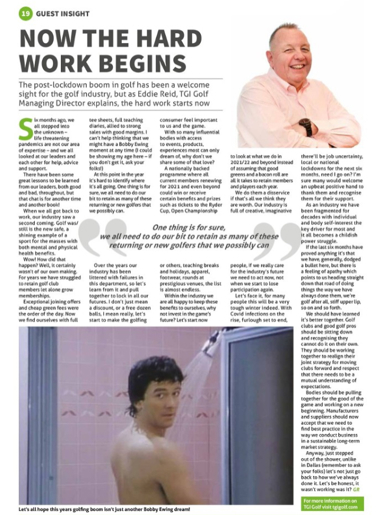 advice and support.
There have been some great lessons to be learned from our leaders, both good and bad, throughout, but that chat is for another time and another book!
When we all got back to work, our industry saw a second coming. Golf was/still is the new safe, a shining example of a sport for the masses with both mental and physical health benefits.
Wow! How did that happen? Well, it certainly wasn't of our own making. For years we have struggled to retain golf club members let alone grow memberships.
Exceptional joining offers and cheap green fees were the order of the day. Now we find ourselves with full tee sheets, full teaching diaries, allied to strong sales with good margins. I can't help thinking that we might have a Bobby Ewing moment at any time ) I could be showing my age here – if you don't get it, ask your folks!)
At this point in the year it's hard to identify where it's all going. One thing is for sure we all need to do our bit to retain as many of these returning or new golfers that we possibly can.
Over the years our industry has been littered with failures in this department, so let's learn from it and pull together to lock in all our futures. I don't just mean a discount, or a free dozen balls, I mean really, let's start to make the golfing consumer feel important to us and the game.
With so many influential bodies with access to events, products, experiences most can only dream of, why don't we share some of that love?
A nationally backed programme where all current members renewing for 2021 and even beyond could win or receive certain benefits and prizes such as tickets to the Ryder Cup, Open Championship or others, teaching breaks and holidays, apparel, footwear, rounds at prestigious venues, the list is almost endless.
Within the industry we are all happy to keep these benefits to ourselves, why not invest in the game's future? Let's start now to look at what we do in 2021/22 and beyond instead of assuming that good greens and a bacon roll are all it takes to retain members and players each year.
We do them a disservice if that's all we think they are worth. Our industry is full of creative, imaginative people, if we really care for the industry's future we need to act now, not when we start to lose participation again.
Let's face it, for many people this will be a very tough winter indeed. With Covid infections on the rise, furlough set to end, there'll be job uncertainty, local or national lockdowns for the next six months, need I go on? I'm sure many would welcome an upbeat positive hand to thank them and recognise them for their support.
As an industry we have been fragmented for decades with individual and body self-interest the key driver for most and it all becomes a childish power struggle.
If the last six months have proved anything it's that we have, generally, dodged a bullet here, but there is a feeling of apathy which points to us heading straight down that road of doing things the way we have always done them, we're golf after all, stiff upper lip, so on and so forth.
We should have learned it's better together. Golf clubs and good golf pros should be sitting down and recognising they cannot do it on their own. They should be working together to realign their joint strategy for moving clubs forward and respect that there needs to be a mutual understanding of expectations.
Bodies should be pulling together for the good of the game and working on a new beginning. Manufacturers and suppliers should now accept that we need to find best practice in the way we conduct business in a sustainable long-term market strategy.
Anyway, just stepped out of the shower, unlike in Dallas (remember to ask your folks) let's not just go back to how we've always done it. Let's be honest, it wasn't working was it?
Share this