NEW CALLAWAY JAWS RAW WEDGES: TOTAL SPIN MACHINES
21 June 2022
- Aggressive grooves, new spin-enhancing raw face and weight balanced design -
Callaway has unveiled new Jaws Raw Wedges that take spin and control to all new levels, with a perfect blend of precise craftsmanship and industry-leading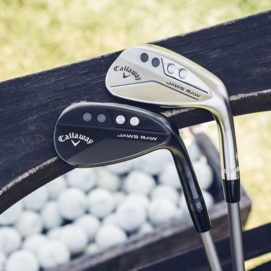 technology.
Created by legendary wedge designer, Roger Cleveland, Jaws Raw Wedges feature the most aggressive, razor sharp grooves in golf, now presented on a raw face for 'one hop and stop' spin into greens.
Callaway has removed the plating on the face which allows for rusting over time in the scoring zone, while maintaining a premium look throughout the rest of the clubhead. Removing the plating enables a more direct connection between ball and the face at impact.
The addition of Groove-in-Groove Technology, where milled micro-grooves sit at a 20° angle, also further promotes spin on chips, pitches and lob shots.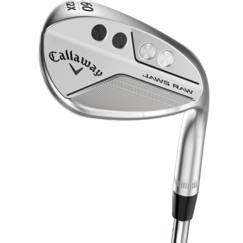 A new Weight Balanced Design gives enhanced feel and improved scoring performance with the Pitch, Gap, Sand, and Lob Wedges meticulously crafted to enhance their specific performance benefits.
Tungsten is also in a Callaway wedge for the first time ever, on the sand and lob wedges, to centre the CG position for perfect control and feel. Variable length hosels have also been engineered to control trajectory, while enhancing forgiveness.
The expansive line of 17 loft and bounce combinations includes an all-new 'Z-Grind' that Roger developed as a more forgiving shotmaker wedge. It is one of four updated grinds in the new family, available in two stunning finishes – Raw Face Chrome and Raw Black Plasma.
"It was also important we maintained a classic look with Jaws Raw, so developed heads with a straighter leading edge and a smooth hosel connection. This is something our Staff Professionals fed back to us, and we wanted golfers everywhere to also be inspired by this new Tour-level look," said Roger.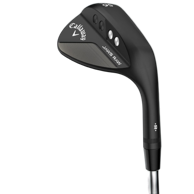 Completing the premium package, stock shaft options include True Temper Dynamic Gold Spinner 115g (steel) and Project X Catalyst 80g (graphite), paired to a Lamkin UTx Charcoal Grip.
A women's stock shaft option is available in UST Recoil (graphite) with a Lamkin Women's Comfort Grip.
GRINDS BREAKDOWN
Z-GRIND
A tri-level sole design, with an aggressive leading-edge chamfer that acts as a skid plate for enhanced turf interaction. The chamfer also reduces digging, making this a more playable low-bounce grind. This is a versatile grind around the greens for opening the face or hitting it square.
Player Type: Shotmakers who like to open the face around the greens
Divot Type: Shallow Divot
Condition Type: Medium, Firm
Lofts: 58°, 60°
Bounce: 8°
S-GRIND
Standard medium-width sole with a slight ribbon at the back, and moderate heel relief to keep the leading-edge low through impact. A small leading-edge chamfer is employed for enhanced turf interaction. This is our most popular grind option for a wide variety of conditions and swing types.
Player Type: Fits a variety of swing types; best for players who prefer a square face
Divot Type: Moderate Divot
Condition Type: Soft, Medium, Firm
Lofts: 48°, 50°, 52°, 54°, 56°, 58°, 60°
Bounce: 10°
X-GRIND
Our highest bounce option provides heel and toe relief, along with a narrow width for versatility when you open the face. A small leading-edge chamfer is added to reduce digging. The wedge is best suited to a shotmaker with a steep angle of attack.
Player Type: Shotmakers with a steep angle of attack
Divot Type: Deep Divot
Condition Type: Medium, Soft
Lofts: 58°, 60°
Bounce: 12°
W-GRIND
Our widest sole option with a tighter front to back radius and a small leading-edge chamfer. This promotes skidding and reduces digging.  This is our most forgiving sole grind.
Player Type: Our widest sole for players who need the most help and forgiveness
Divot Type: Deep Divot
Condition Type: Soft
Lofts: 50°, 52°, 54°, 56°, 58°, 60°
Bounce: 12°
Share this