Mizuno Mp-20 HMB Irons Named MyGolfSpy's Most Wanted Utility Iron Of 2019
27 September 2019
Mizuno's New MP-20 Hot Metal Blade Irons Have Been Named "Most Wanted" Utility Iron Of 2019 By Industry Expert Testers MyGolfSpy
Mizuno, the Japanese equipment manufacturer long renowned for its beautiful, industry-leading forged irons and technically advanced golf clubs, has been awarded "Most Wanted" utility iron of 2019 by MyGolfSpy for the new MP-20 HMB.
Mizuno, founded in Osaka, Japan, in 1906, has long held an enviable industry- and tour-wide reputation for crafting the very finest forged irons in the game, offering golfers the ultimate blend of looks, feel and workability.
The Mizuno MP-20 HMB is a new breed of hollow-headed 'Hybrid Muscle Back' in a tour-ready profile that features Mizuno's forged Chromoly material in the face and neck. It is inspired by the proliferation of long iron replacements on tour but extends the concept right down to the wedges. It also features copper-plating within the heads to add 'layers of feel' at impact.
Testing by MyGolfSpy showed the MP-20 HMB delivered the highest average strokes gained score and tightest average Shot Area on test. It was the top-rated iron for subjective feedback. After 60 hours of research and 2,963 shots hit, the MP-20 HMB was awarded "Most Wanted."
"MyGolfSpy are one of the industry's leading independent testers so we're delighted to receive this accolade," says Mizuno's Chris Voshall. "The level and detail of testing that MyGolfSpy conducts is extensive and we're pleased this has confirmed what we already knew; that the quality and performance of the MP-20 HMB irons is second to none."
MP-20 HMB offers a full set of performance hybrid irons in a sharp 'tour-ready' profile, built on the ball speed of Mizuno's Chromoly material in the face and neck, supported by a precision stainless steel body and tungsten weighting. It offers the proportions, topline and offset transition of a classic Mizuno players' muscleback with a generous sole width that's hidden at address and is designed to help consistent players pursuing added ball speed without sacrificing their shot-making options.
The heads feature a brush satin durable plated finish and a complex, loft-specific construction. From 2- to 8-iron, Mizuno's multi-thickness Grain Flow Forged Chromoly face and neck is dialled in to be consistently hot across the clubface. From 2- to 7-iron, twin 12g tungsten weights deliver stability and an easy launch, while use of a softer 1025E Pure Select mild carbon steel from 9-iron to PW makes the short irons soft and responsive. MP-20 HMB is designed to be played as a full set or mixed with any MP-20 set, with recommended break points between the 4- and 5-iron or 7- and 8-iron for blended sets.
"A few years back it was a surprise to see truly elite tour players with more than one long iron replacement," says Chris Voshall, "but now that we've found their acceptance point on offset, size and proportions, there's a new set who are open-minded to the 5-iron and beyond."
"Most modern musclebacks and limited 'tour edition' irons can be traced back to the great Mizuno blades," Chris Voshall adds, "though what makes a Mizuno iron truly exceptional is everything you can't see. If you could peel back the chrome plating, you would find a sandwich of nickel and soft copper before the Grain Flow Forged HD chassis. Under a microscope, you can see a perfect flow of grain within the steel from the hosel to toe, compacted tighter in the hitting area. Designers can mimic our lines, but not what's inside."
Mizuno's new MP-20 iron models have evolved from the DNA of Mizuno irons that shaped the modern game, launched Major-winning careers and inspired generations of 'tour edition' musclebacks.   Exclusively Grain Flow Forged in Hiroshima, Japan, where Mizuno has refined the art of feel for more than 50 years, the heads of all MP-20 iron models feature copper plating, just as in the brand's legendary TN87 model, for an impact sensation recognised as Mizuno's purest ever.
Mizuno has strived to "create the best products for consumers" for 113 years, and the MP-20 HMB irons adhere firmly to that original spirit and desire, while offering the best performance benefits that modern technology can bring. #ReachBeyond
For further information on the new MP-20 HMB irons plus Mizuno's full range of golf equipment, apparel and accessories visit: golf.mizunoeurope.com.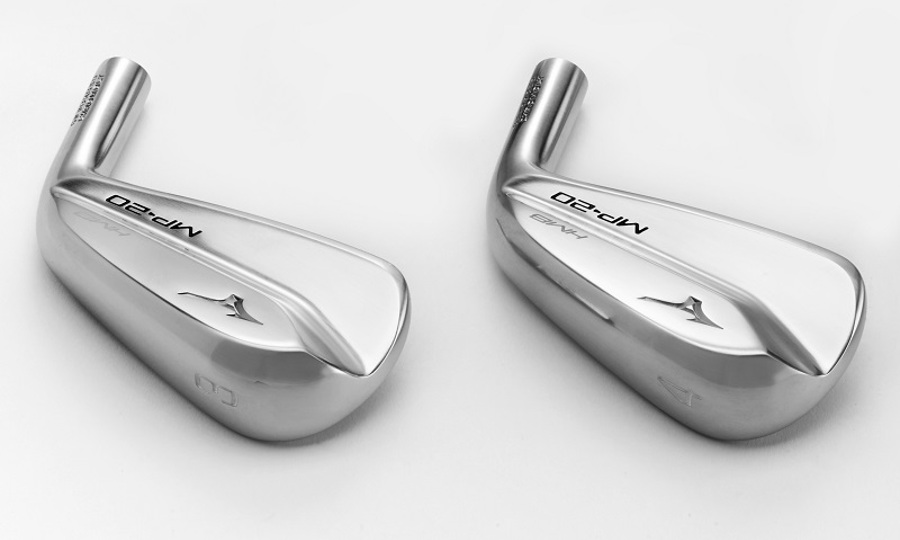 Share this