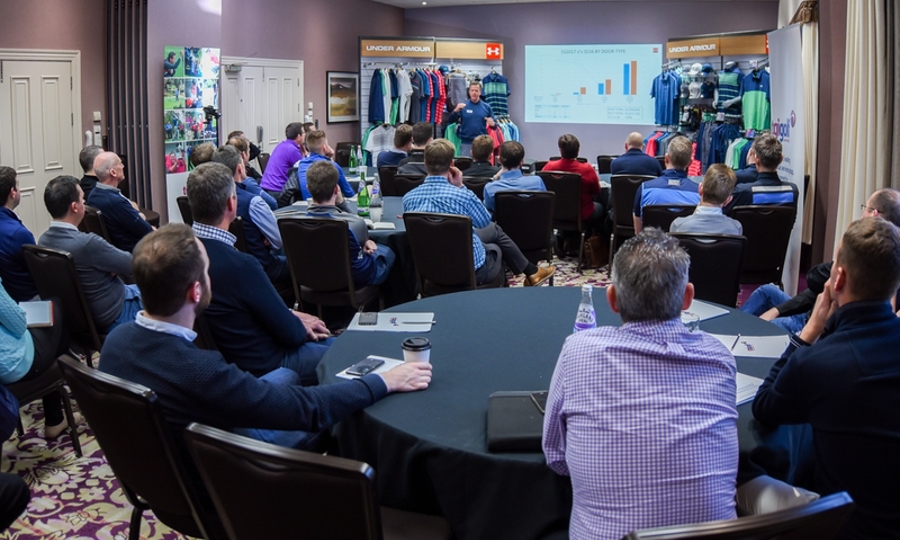 The Home of Golf, St Andrews, welcomed TGI Golf Partners and guests to the group's annual Business Conference.
Over the two-day event Partners had the opportunity to hear from a range of speakers, covering a whole host of subjects, including merchandising, custom fitting, and retail best practices from experts both in and outside of the golf industry.
Keynote speaker at the Fairmont St Andrews was Ian Kelsall, an experienced figure in the world of retail having previously worked for industry leaders such as Tesco, Boots and M&S.
During his enlightening presentation Ian covered a range of vital topics, including leadership, staff motivation, communicating with customers and understanding their needs.
Other speakers included, TGI Golf's own Retail Consultants who presented following requests from Partners; Head of Communications Matt Millard, who covered the important and tricky subject of the new General Data Protection Regulation, that comes into effect this year; Phil Barnard from Crossover Technologies; Sean Brady from TaylorMade discussed custom fitting best practices and Neil Heslop from Under Armour covered merchandising.
On the final day of the event the group held its AGM where Chairman Paul McEvoy completed his three years in the role and handed over to Malton & Norton PGA Professional Michael Brooks. 
It was also confirmed that Paisley's Andy Carlton would step down from the board, being replaced by Scotscraig's Craig Mackie. 
Following the AGM, TGI Golf Managing Director Eddie Reid gave Partners a briefing on the group's standing and some industry insight.
His presentation was followed by Richard Payne from SMS Inc, who discussed participation figures and how golf could grow its numbers.
Following the event, Michael McAllan, from Elgin Golf Club said: "This event really is a must attend for any TGI Golf Partner. You can learn so much and it is a great way to get you motivated going into the new season." 
Mike Bradley from Notts (Hollinwell) Golf Club added: "The planning that goes into making sure there is something for everyone is exceptional. Even if you don't pick up anything from all the seminars, just being here and chatting to your peers about things you could be doing is essential. You are guaranteed to come away from the Business Conference having learned something."
The event certainly created a real buzz among Partners on Social Media, with Twitter mentions of @TGI_Golf up 346.2% and profile visits up 451.6%.
Below are just a handful of Tweets received from TGI Golf Partners in attendance.