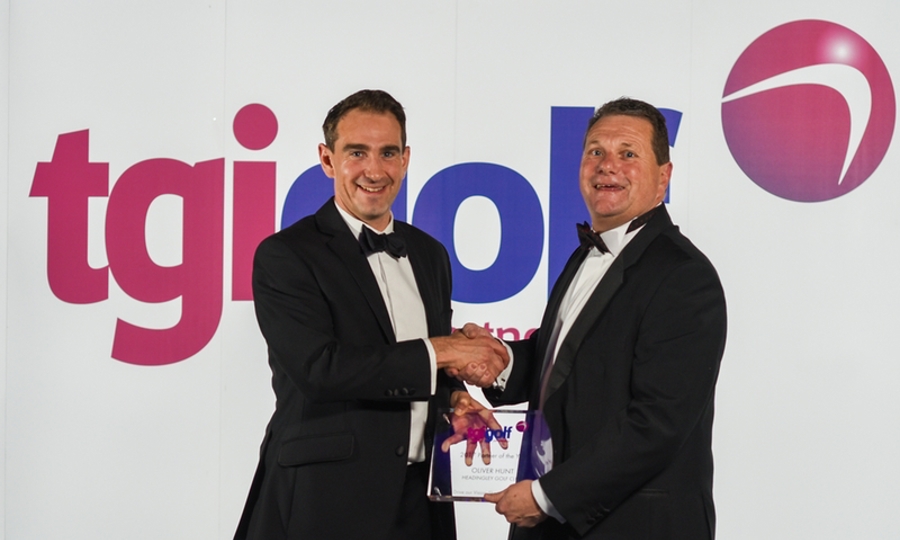 Headingley Golf Club PGA Professional Oliver Hunt claimed the highly sought-after Partner of the Year title at the annual TGI Golf Partnership Awards, staged at the Home of Golf, St Andrews.
The 38-year-old, who has been a valuable Partner of the group since 2011, was honoured at the ceremony, which saw the leading figures from the golf industry join TGI Partners and Partner Suppliers at the glamorous event staged at Fairmont St Andrews.
PING once again had a double celebration as it picked up two awards – Supplier and Hardware Supplier of the Year.
Hunt, saw off competition from Michael McCrudden (Roe Park), Robert Irvine (Douglas Park) and Taunton & Pickeridge's Simon Stevenson to scoop the main award.
He said: "It was a real shock to hear my name called out. To be crowned Partner of the Year when we have nearly 500 high quality PGA Professionals in the group is an absolute honour.
"There are so many great Pros in the group, in fact it's more like a family, everyone is willing to help each other out and that's what makes it so special. To be standing up on that stage and honoured among a room of such amazing people is something that will stay with me forever."
The Supplier awards are all decided on the back of the TGI Golf Supplier Survey, where Partners score all the brands on a variety of categories including product quality and customer service.
For the third straight year, and fourth time overall, PING collected the coveted Partner Supplier of the Year award.
PING Europe Managing Director John Clark said: "We're thrilled to have been recognised with these two prestigious awards and would like to thank the TGI Golf Partners for once again voting us as their best overall supplier in 2017. Our employees have earned these awards through their consistent dedication and determination to do the right thing for our customers and the PING brand.
"We're extremely grateful to all of the group's partners who continue to support us, and we look forward to working with them this year and for many years to come."
Callaway collected the Product of the Year award for its EPIC series, while Sunderland of Scotland entered the winner's circle for the first time collecting the Apparel Supplier of the Year award.
In the Partner Awards categories Cameron Clark from Moor Hall Golf Club collected the Pro Shop of the Year award, Bangor Golf Club's Stephen Gordon was New Partner of the Year, while David Orr from Eastwood won Most Improved Business.
Eddie Reid, TGI Golf Managing Director, said: "Witnessing the humility with which all the winners showed is a true testament to how much these awards mean to both our Partners and Partner Suppliers.
"Congratulations to all those who won and well done to those nominated. I would like to thank them all for their continued desire and drive for service excellence."