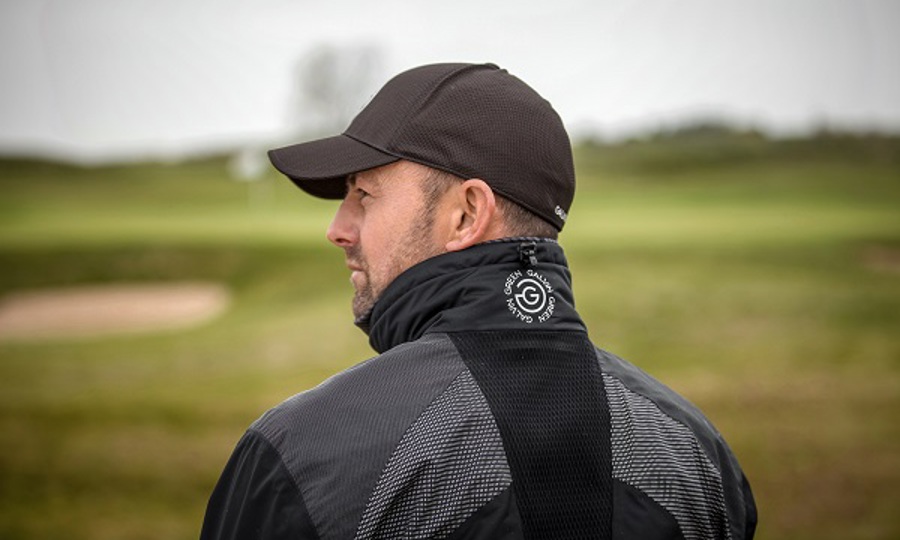 Galvin Green is introducing a distinctive range of carbon-inspired garments with a technical look and subtle tone-on-tone patterns for the serious golfer wanting style on and off the course this winter.
The 8-piece CARBON Series in striking Black, Grey and Silver block colours is being launched on Galvin Green's very own 'CARBON FRIDAY.' This follows the brand's bold decision to switch off their own e-commerce site for Black Friday as they believe it goes against their 'We Never Compromise' ethos and encourages short term purchases rather than an investment in products designed to perform time and again when needed.
The capsule collection features waterproof and windproof jackets, a warm layer garment and two highly breathable shirts, plus compatible accessories in the form of a snood, belt and a cap.
"The CARBON Series is a special line of premium clothing that's perfectly interchangeable and designed to appeal to golfers who may be new to Galvin Green, as well as many loyal supporters of our Multi-Layer Concept," said Brand Manager Nicholai Stein.
Leading the way in the new CARBON Series is the ARCHIE, a stylish waterproof full-zip jacket in lightweight stretch GORE-TEX® fabric with C-KNIT™ 'slide & glide' backer. Incorporating Super-Stretch GORE-TEX® inserts in key areas to reduce restriction and help golfers to make a full shoulder turn, minimising distance loss which can occur when layering up incorrectly in adverse weather conditions.
Debuted by Europe's victorious Ryder Cup Team, this is the first time the technology has been made available to the golfing public.  The jacket is made from a premium fabric which is softer and quieter than its predecessors and features durable Vectran™ fabric on the shoulders for added abrasion resistance which also  adds a striking design feature.
The extremely breathable carbon Black jacket also features adjustable chest and collar width; adjustors on the cuffs; elasticated drawstring on the hem; shaped sleeves for easy movement, as well as water-repellent zippers and front pockets.
The Official Supplier of Weatherwear to this year's winning European Ryder Cup Team has also included two new INTERFACE-1 jackets in the Carbon offering - the full-zip LLOYD in shiny Silver and the LANCELOT half-zip jacket in Black. Both water-repellent jackets have chest pockets and elastic drawstrings at the hem, while the eye-catching LLOYD also has front pockets and a repositioned side seam for optimum comfort. The extremely breathable LANCELOT also comes with elasticated cuffs and is made from a polyester stretch fabric. Due to their versatility and ability to perform in almost all weather conditions, the brand believe these jackets can both be worn for 95 out of 100 rounds of golf.
Complimenting the weatherproof jackets are DAVE, a full-zip INSULA™ jacket in black made from a stretchy and warming combination of 90% polyester and 10% elastane and the eye-catching VENTIL8™ PLUS golf shirts, MATT and MYLO.
Matching Carbon accessories are available with DONNY, a snood/bandana in warming INSULA™ fabric, WAYNE, an adjustable leather belt with ratchet buckle and SETH, a cap in the extremely breathable VENTIL8™ PLUS fabric.
For details of the latest ranges from Galvin Green visit: www.galvingreen.com