Foresight Sports Europe Launches New Venue-Finder
6 June 2019
Foresight Sports Europe has created a new platform that enables users to locate their nearest venue offering Foresight technology.
With over 550 locations across the UK and Ireland, and a greater understanding from golfers on the accuracy of Foresight camera-based technology, demand is at an all-time high. The intuitive website-based platform provides users with the venue address, contact details, directions to the venue and highlights which technology is available at each facility.
Locating a Foresight Sports venue takes four simple steps:
Enter the starting location
Select the required launch monitor, like the GCQuad or GC2+HMT
Set the desired travel distance range
Browse the resulting venues and their facilities
"We are now able to offer the next step in not only educating golfers but providing the ability to find their nearest venue, online, at their own convenience," said Foresight Sports Europe Marketing Manager, Ben Hawksworth. "Demand for the platform has been universal from golfers through to PGA Professionals alike. We believe it will prove an invaluable tool for golfers looking for Foresight Sports' game changing technology, as well as driving traffic to our customers," he added.
The platform will be updated as new venues invest in Foresight Sports' technology and plans for Foresight's 800+ European venues to be added to the portal are underway.
To locate your nearest venue with Foresight Sports technology visit: www.foresightsports.eu/venue-finder
For more information about Foresight Sports' simulators and launch monitors visit: www.foresightsports.eu call 01483 551 441 or email info@foresightsports.eu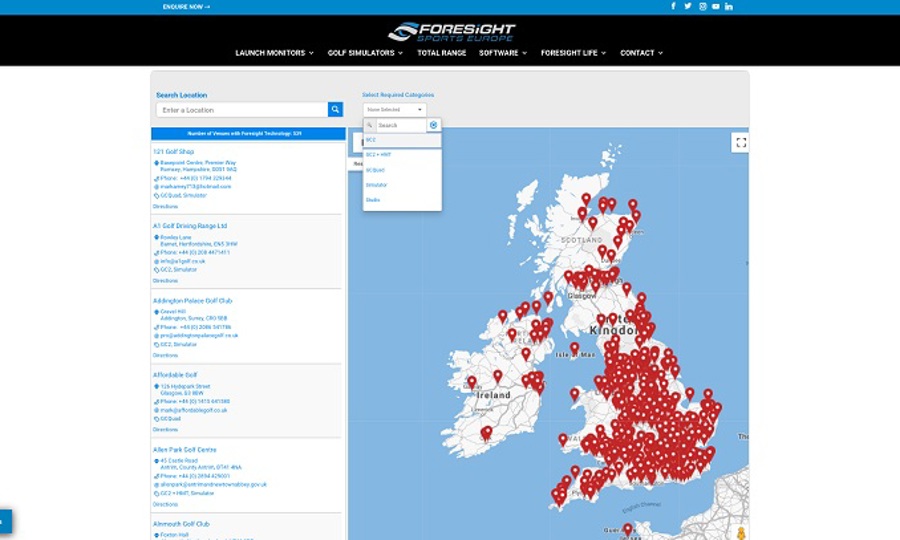 Share this