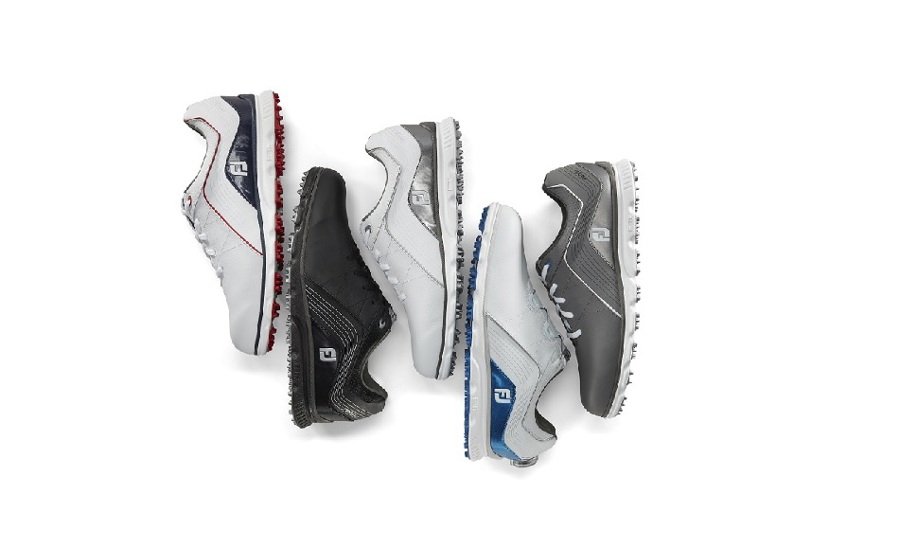 FJ Updates Market-Leading Footwear with New Upper & Colour Combinations
FootJoy, has introduced an all-new version of the hottest shoe in golf, the Pro/SL. Currently the market-leading model across the UK & Ireland and on the majority of worldwide professional Tours, Pro/SL combines a soft, comfortable, waterproof leather upper with a midsole/outsole system that features three distinct layers for comfort, perimeter stability and superb traction in all conditions. Chosen by more of the Top 100 ranked players in the world than any other shoe, Pro/SL has been worn to victory more than 130 times since its launch just 2 years ago.
The model further increased in popularity after being added to FJ's MyJoys platform, allowing golfers to design their own unique version of the Pro/SL. The new styles will be available for golfers to design from November 15th through FJ's MyJoy platform, in line with the launch of the Grey/White and all Black colourways.
Richard Fryer, Director of Product Management, FJ Footwear, said:  "Our players can choose from any shoe in our line, so the fact that so many continue to choose Pro/SL, on Tours all over the world and in all possible conditions, really validates the product's performance and our extensive design and development process."
Tour Player Adoption:
Since its inception, hundreds of Tour players around the globe have opted for the comfort and spikeless performance of Pro/SL to compete at the highest level, including Adam Scott, Louis Oosthuizen, Ian Poulter, Kevin Na, Charley Hoffman, Peter Uihlein, Patrick Cantlay, Cameron Smith and Andrew "Beef" Johnston among many others.
"Of all the shoes I've worn throughout my career, these are by far the most comfortable," said Ian Poulter who wore a custom pair of shoes through Europe's recent Ryder Cup victory in Paris. "I get great grip in wet and dry conditions, plus with the BOA system, I can dial in the fit and comfort to get exactly what I want."
Pro/SL's advanced midsole/outsole design provides an unrivalled combination of comfort and Tourcalibre performance. Its multi-layer construction utilises Fine-Tuned FoamTM (FTF) which is 10% lighter than the conventional EVA foam used in  most golf footwear, and each layer is engineered  to deliver discrete performance benefits:
Comfort:
 The top FTF layer cradles the foot in a soft foam insert for tremendous underfoot cushioning
Stability:
 The lower/outer layer is a firmer blend of FTF that provides perimeter stability and motion control
Traction:
223 individual points of ground contact provide Tour-proven traction in all weather and course conditions
Availability:
November 15th 2018
Styles:
Two styles will launch November 15th,    with three additional colour combinations    available from January 15th, 2019.   Black Grey/White  White (15/01/19) White/Navy/Red (15/01/19) White/Blue BOA® (15/01/19)
Also available for customisation from November 15th.
For more information visit www.footjoy.co.uk/en_GB/prosl