FJ Begins Showcasing Spring/Summer '21 Apparel Collection
17 July 2020
FootJoy has begun the sell-in of a stylish, contemporary performance apparel range for Spring/Summer '21.
With the huge impact that COVID-19 has had on the SS'20 selling season, FJ wanted to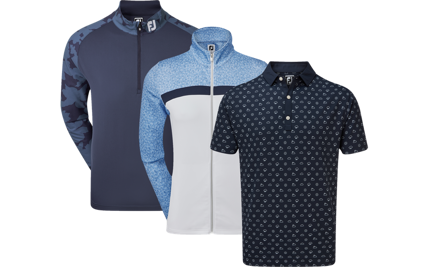 offer continuity to trade partners and relieve some of the pressure to clear current product at reduced prices. As a result, 61 high volume pieces from the SS'20 line will carry over into 2021.
The men's range features four brand new collections; Revere, Dorado, Seaside and Geneva, which will offer unique colour stories inspired by vibrant colour contrasts and wider lifestyle fashion trends from around Europe. FJ's SS'21 line will also feature an expanded GolfLeisure female collection range by introducing two new colour stories; Blue Jay and Blush Pink as well as a selection of neutral and versatile garments.
A select product range from the men's SS'20 collection will also support the 2021 apparel line, with items from the familiar Spirit, Royal, Mosaic and Wave collections returning for a consecutive season. Similarly, the full SS'20 Rose and Jade lines will continue through to 2021, complementing next year's offering.
The unveiling of the SS'21 range is an eclectic release that offers new design subtleties, unrivalled performance apparel and a fresh lease of life to all golfer's wardrobes. The new designs indulge in fun fashion and contemporary patterns that will make a statement on the course as much as they will off.
The colour collections will also be accompanied by a sweeping and diverse Essentials range, which will offer supporting apparel that complements the collections alongside block colours that appear in the line every year and prove particularly popular with club teams.
The Revere collection features a palette of summer vibrancy, with Cape Red, Storm Blue, Vanilla and White. The playful Lisle Cocktail Print polo pattern adds a contemporary twist to a classic polo featuring Woo Woo styled icons, fitting for the inspiration behind the collection.
Dorado introduces oceanic elements with the combination of the Navy and Lagoon tones of Blue energised by the White. The contrast between the trio of colours creates a bright, clean aesthetic for a striking collection that will thrive in summer golf.
Inspired by softer, cleaner tones the Seaside collection offers an elegant look. The Ice Blue, Grey, Lime and White colour story features calm tones to create an easy going, versatile collection that flourishes with supporting products across the FJ's Essential and GolfLeisure ranges.
Throughout the Geneva collection, the Mulberry injects juice into the look with contrast against the familiar White, Coal and Black. The fiery Pique Camofloral Print polo in the Geneva collection creates an eye-catching statement and heroes the range with its balance of texture, colour and contrast.
FJ's SS'21 latest women's collections, Blush Pink, Blue Jay and Neutral, will feature incorporated curved themes, iconic Mary Quant's inspired mod lines and soft leopard print styles, to offer subtle modern design elements and flair. The colour stories each hero an individual colour, Blush Pink, Blue Jay and Navy, with a common White and Heather Grey combination to offer supporting tones.
European Marketing Manager, Paul O'Hagan, said: "This is an exciting range that stamps a modern twist on traditional classics and really takes our apparel line to another level. The designs take diverse inspiration, and it shows, with unique style options to suit all golfers. As a brand we are continuously looking for new ideas in this space; and our line up next year pushes the bar beyond anything we have created to date.
"We've already received hugely optimistic responses, with a shared excitement from both our teams and Tour ambassadors on what's coming up. We look forward to seeing the products on show at our retail partners stores!"
For more information on the latest SS'21 apparel line please contact your local Area Sales Manager or visit www.FootJoy.co.uk.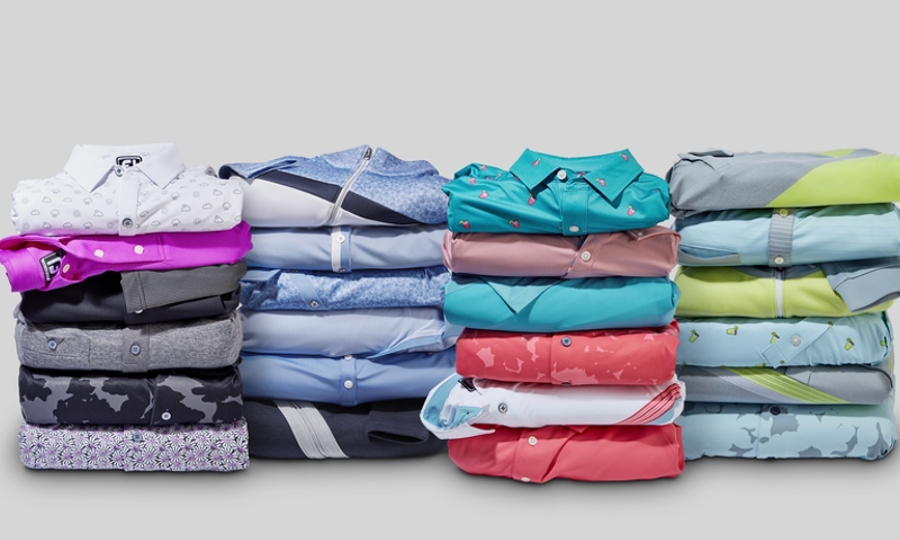 Share this