Eze Glide Push Trolleys: Innovative, Functional & Affordable
9 June 2022
Established in 2012 Eze Glide have provided innovative trolley designs for the push cart market. With a focus on functionality and ergonomics each model has been manufactured with golfers in mind but at an affordable price.
Eze Glide have gone strength-to-strength with their range of golf trolleys designed to solve the needs of the everyday golfer. One of the main focus points for Eze Glide is to not over-complicate the process, the easier to use a product is, typically is a sign of success!
The current range of Push Trolleys on offer from Eze Glide cover a number of different price points and innovative designs meaning across the range there is a solution for any golfer looking to upgrade their trolley.
The Ranger is the newest addition to the range for 2022, it is a multi-feature 3-wheel trolley designed to offer a more premium version of a simplistic trolley. Featuring Quick-Fold, Scorecard Holder, Ball Storage, Storage Basket & Drinks Holder it ticks all the boxes but comes at a very affordable price!
RRP £139.00
The Compact+ push trolley weighs only 6 kg & folds down to a very compact 49.5 x35 x56cm. Feature packed with an adjustable handle height, multifunctional console with weatherproof storage space, drinks holder & a tee and ball holder, a flagship of the Eze Glide range.
RRP £185.00
This premium push trolley comes with a one touch opening and folding mechanism reducing significant time spent in assembling the trolley. The adjustable handle height and bag bracket is designed to tailor to your needs. In addition, there is storage space for valuables and equipment. The lightweight frame and retractable front wheel mean it is ideal for storage in the smallest of spaces.
RRP: £199.00
The easy push design and true glide ball bearing wheels on the Cruiser ensure a straight and smooth glide across the course, minimising effort and strain while preventing injuries. The trolley features an adjustable bag bracket and an L shaped base that is able to support your golf bag and equipment securely without risk of tipping over.
RRP: £120.00
The Quad Plus Trolley is a super stable 4-wheel push trolley, coming equipped with an easy foot operated folding mechanism, adjustable handle height and bag bracket and surprisingly lightweight frame. The Quad even folds down compactly for easy transport and saving on storage space!
RRP: £185.00
For more information on the Eze Glide range please contact JS International on:
T: 01923 209 440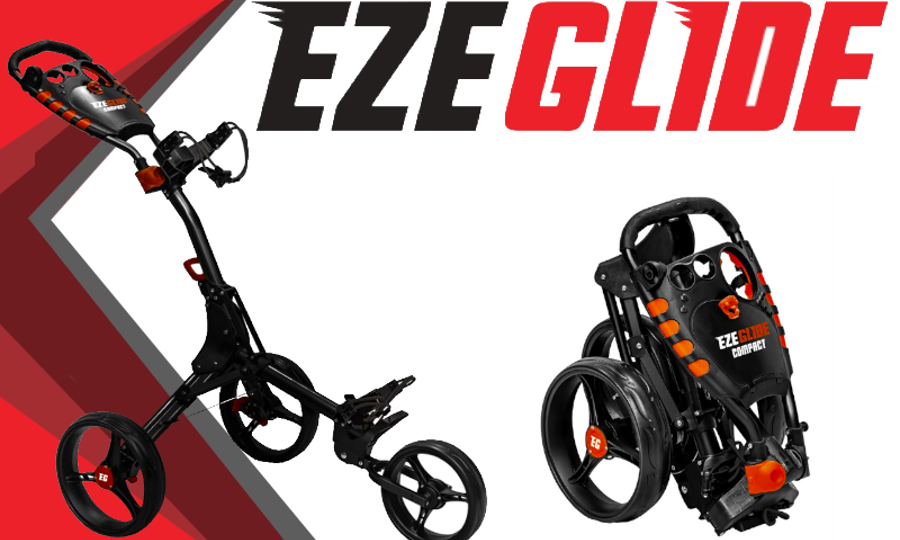 Share this