Clicgear/Rovic New Colours Available to Order Now!
27 May 2021
Since their debut at the 2007 PGA golf show, Clicgear has been one of the most popular and trusted push cart manufacturers in the market, with the inclusion of Rovic an extension of the brand the offerings for 2021 shows not only the largest selection of carts to date, but also the most customisable and colourful range around!
Clicgear have launched new colour ways for the award winning Clicgear 4.0 model alongside the best-selling Rovic RV1C, each model has the option for multiple added accessories and even trim kits to make your trolley truly unique.
Clicgear 4.0
Focused on durability and function, the award winning 4.0 stands above the rest, with a number of improvements being made from the super popular 3.5 model. The 4.0 features silicone bag straps, front wheel engaged hand brake, multiple accessory mounts, compact design and improved saddles to cater for nearly all golf bags. The 4.0 is available in 7 colours – White, Black, Silver, Army Green, Teal and new for 2021 Red and Blue!
Clicgear 4.0 RRP: £249.00
Rovic RV1C
The Rovic RV1C is their most compact design to date, perfectly suited to golfers with limited space folding down to just 60x38 cm. This model also features a handle brake system, built in accessory storage, silicone bag straps, ball clip and quick simple one touch fold design. The RV1C is available in 6 colours – Charcoal, White, Silver and new for 2021 Red, Blue and Light Blue.
Rovic RV1C RRP: £169.00
For more information on the Clicgear & Rovic ranges please contact JS International on:
T: 01923 209 440
E: sales@jsint.com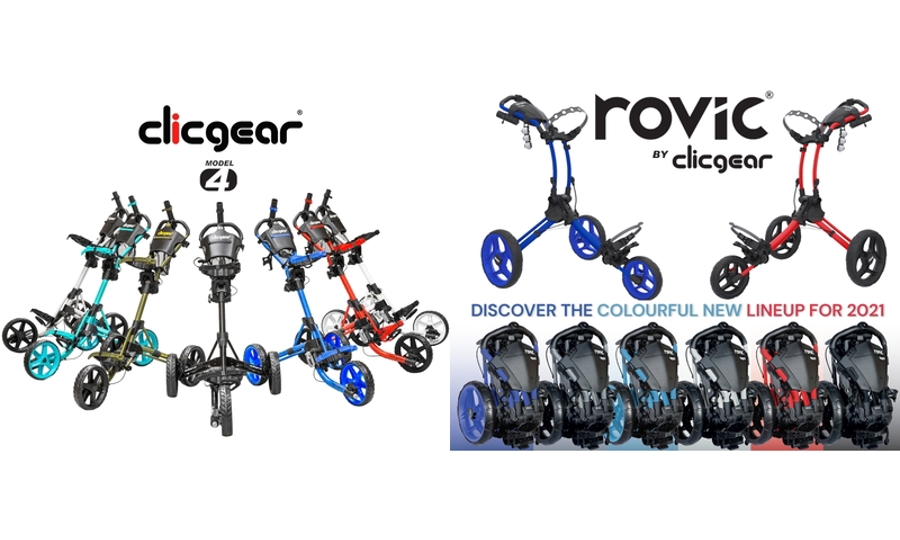 Share this